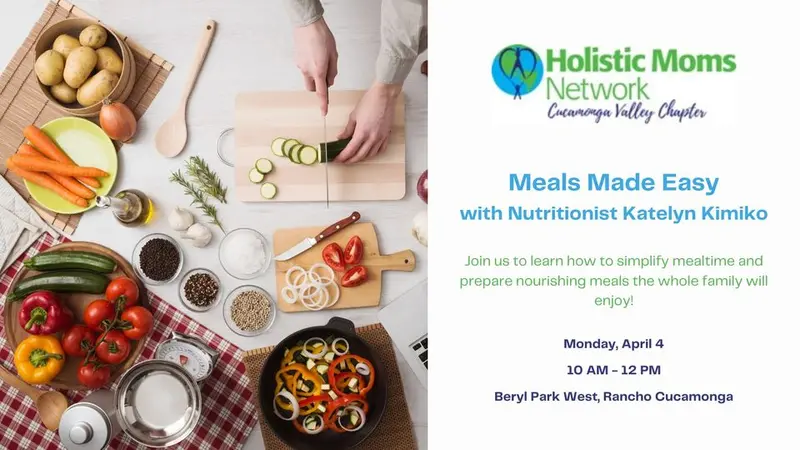 Meals Made Easy with Nutritionist Katelyn Kimiko - Holistic Moms Network Cucamonga Valley, CA Chapter
Join the Holistic Moms Network of Cucamonga Valley for a workshop to learn how to simplify mealtime and prepare nourishing meals the whole family will enjoy! This event is open to non-members.
Nutritionist Katelyn Kimiko of Kimikos Kave will share her knowledge about making meals that are not only easy, but nourishing for you and your family. As a mom herself, she understands what it's like to be a tired mom that is trying to feed her kids food that is not only healthy, but tastes good too!
ABOUT KATELYN: Katelyn Kimiko is a nutritionist who received her Master of Science in Nutrition for Wellness from Bastyr University. After having her first baby, she realized there was a lack of education and support surrounding nutrition and health for moms and their families. She strives to help families make mealtime and shopping easier through education. Find her on Instagram @kimikoskave
The Holistic Moms Network is a nonprofit support and discussion network. Our mission, as a membership-based 501(c)(3) organization, is to connect parents, both in-person and online. We encourage parenting from the heart, natural health, and green living. We welcome people wherever they are on their own holistic path in an environment that does not judge. Our local communities are led by volunteer community organizers, and gather at least once a month. Everyone is welcome to attend an event or two before becoming a donating member. For a $30 tax-deductible annual donation, you gain access to your local chapter monthly gatherings, local and national online groups, group purchasing options, and other local offerings and national member benefits. Membership scholarships are available. Learn more at https://www.holisticmoms.org/connect/