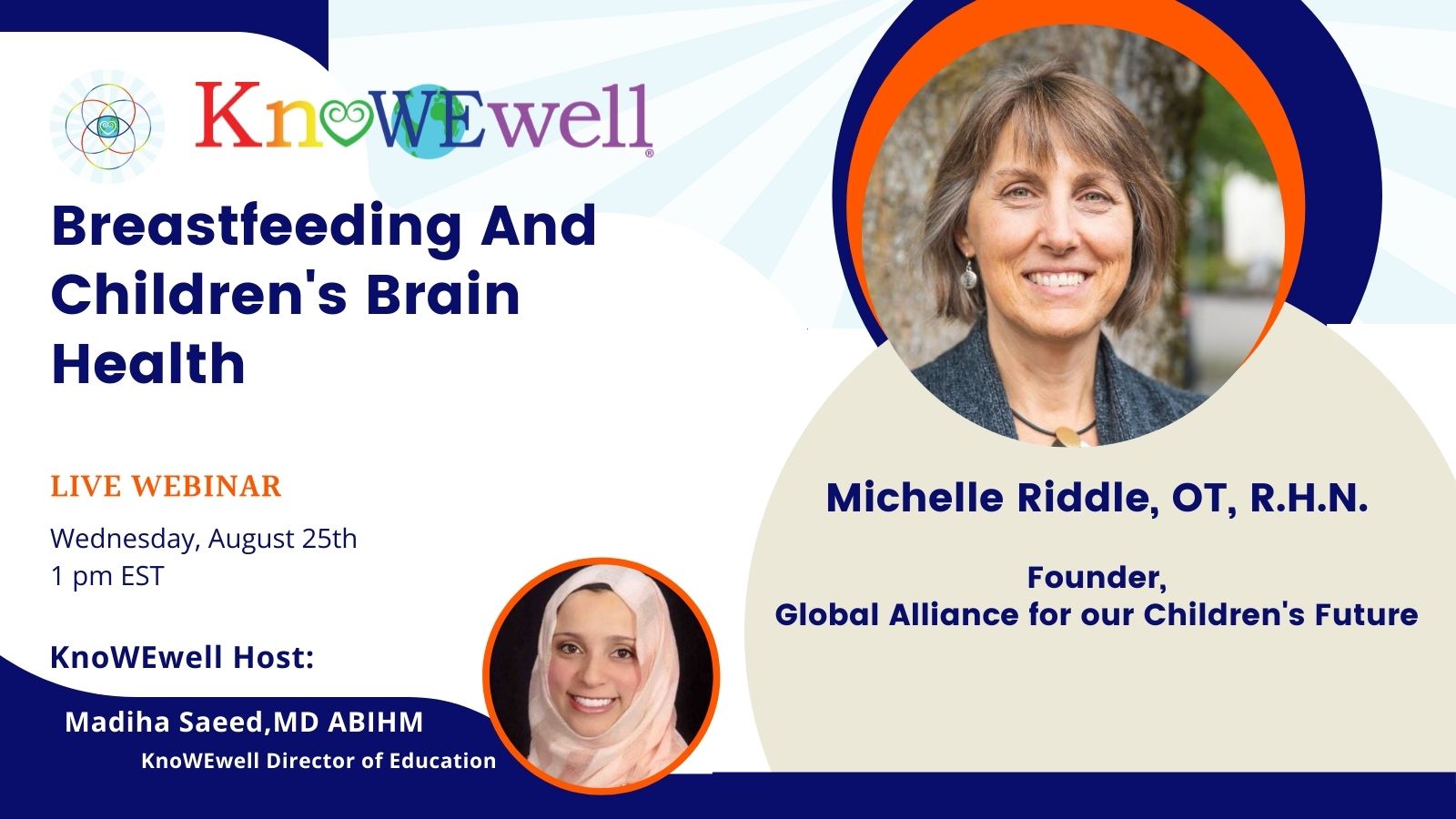 Breastfeeding And Children's Brain Health

Michelle Riddle is a Pediatric Occupational Therapist and Registered Holistic Nutritionist. She collaborates with leading international scientists, educators, and the community to reverse symptoms associated with chronic neurodevelopmental conditions in children. As founder of the Global Alliance for our Children's Future, she also focuses on creating a world where our children can grow up, be resilient, self-assured and productive adults. 
She'll sit down with HolisticMom MD, Dr. Madiha Saeed, for Breastfeeding Awareness Month, to discuss how breastfeeding during infancy is associated with both short and long-term health benefits. Evidence indicates that children who are breastfed have better neurological outcomes, however there are many moving parts in this picture. Michelle will address biological and nutritional impacts, relationship and connection factors, and socio-cultural norms that can make a difference for our children's future. 
In this program, you will learn:
The biological and nutritional benefits of breastfeeding

How relationship and connection factors are supported and facilitated through breastfeeding

The socio-cultural norms that impact breastfeeding and future outcomes for our children

 
KnoWEwell, P.B.C.
KnoWEwell is the global Regenerative Whole Health (RWH) benefits and services company. An award-winning, woman majority-owned, B Certified pending corporation and 1% for the Planet member.
We operate KnoWEwell.com, the one online destination for today's trusted Regenerative Whole Health knowledge, resources, and ecosystem collaborating to inspire and empower individuals to prevent harm, address chronic diseases and achieve WELLthier Living. 
We are on a mission to transform healthcare, as we share knowledge and healing success stories, provide access to screened, verified and background-checked RWH practitioners, as well as expert-led and peer-reviewed content, evidence-based resources, create meaningful connections, and help today's providers, mission-aligned nonprofits, and businesses prosper.