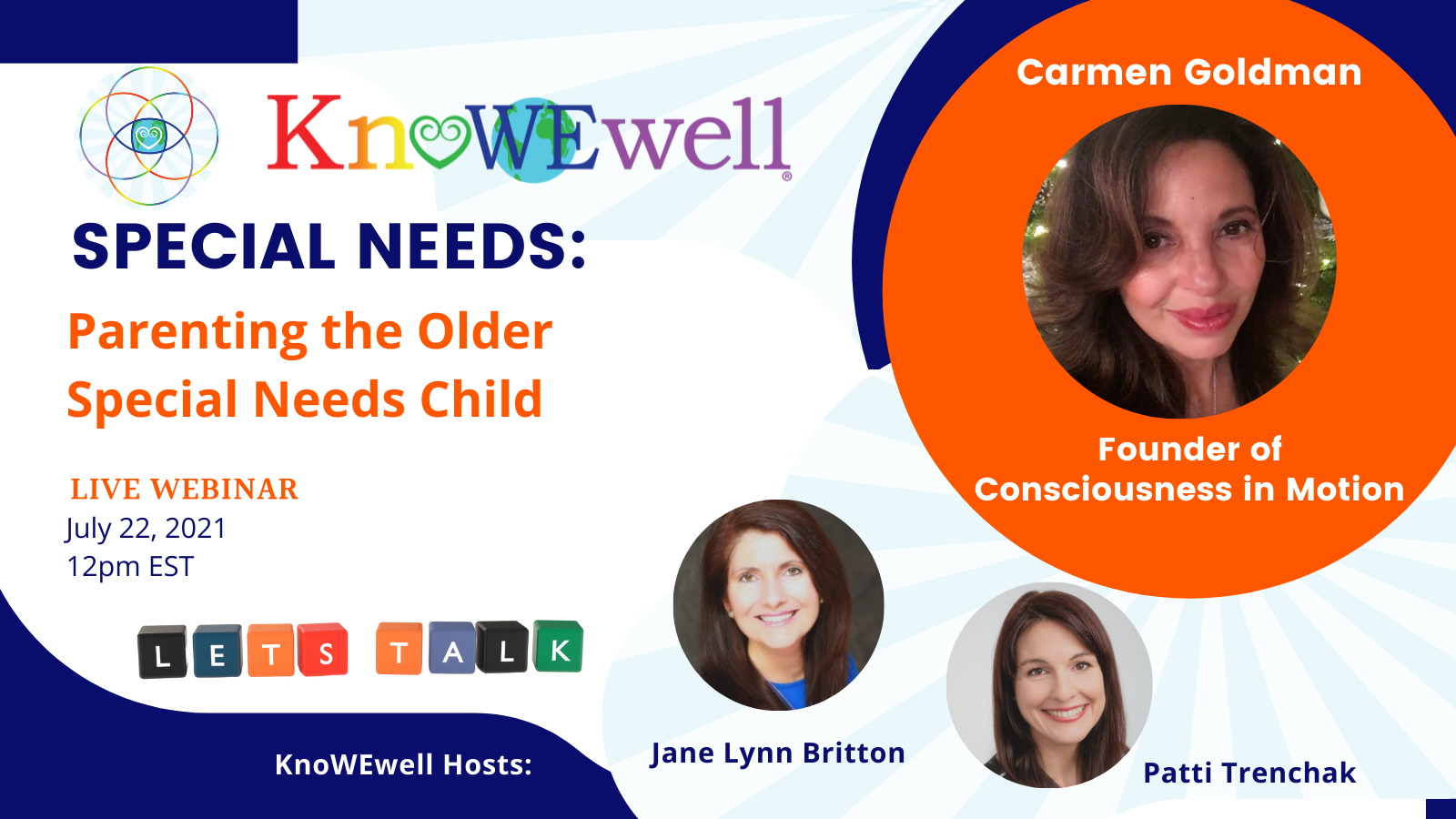 Let's Talk Special Needs: Parenting the Older Special Needs Child

Join us on Thursday, July 22nd at 12PM EST for KnoWEwell's Let's Talk Special Needs. Hosts Jane Lynn Britton and Patti Trenchak will sit down with Carmen Goldman, the founder of Consciousness in Motion. Together they will examine the all too often overlooked topic of "Parenting the Older Special Needs Child." They will discuss all things related to the 18+ special needs child including guardianship, government services, and more.
As the parent of a wonderful 23 year old who happens to be labeled autistic, it has been her family's struggle, as well as that of many other families like hers, that fueled her quest to create a comprehensive "post 21" day program. The intention of the program is to dissipate isolation and loneliness among severely affected adults by providing programs that highlight their significance, dignity and purpose. Counsciousness in Motion will help them continue to develop their communication and social skills, challenge their minds with new technology, and allow them to show and teach their interests and abilities. By exposing them to a more integrated inclusive community, it is their hope to help adult children find their place in the world. Consciousness In Motion Academy programs will focus on art, technology, as well as skills of daily living, and will partner with local resources to provide experienced support staff and strategic partnerships to bring the concept to life.
KnoWEwell, P.B.C.
KnoWEwell is the global Regenerative Whole Health (RWH) benefits and services company. An award-winning, woman majority-owned, B Certified pending corporation and 1% for the Planet member.
We operate KnoWEwell.com, the one online destination for today's trusted Regenerative Whole Health knowledge, resources, and ecosystem collaborating to inspire and empower individuals to prevent harm, address chronic diseases and achieve WELLthier Living.
We are on a mission to transform healthcare, as we share knowledge and healing success stories, provide access to screened, verified and background-checked RWH practitioners, as well as expert-led and peer-reviewed content, evidence-based resources, create meaningful connections, and help today's providers, mission-aligned nonprofits, and businesses prosper.