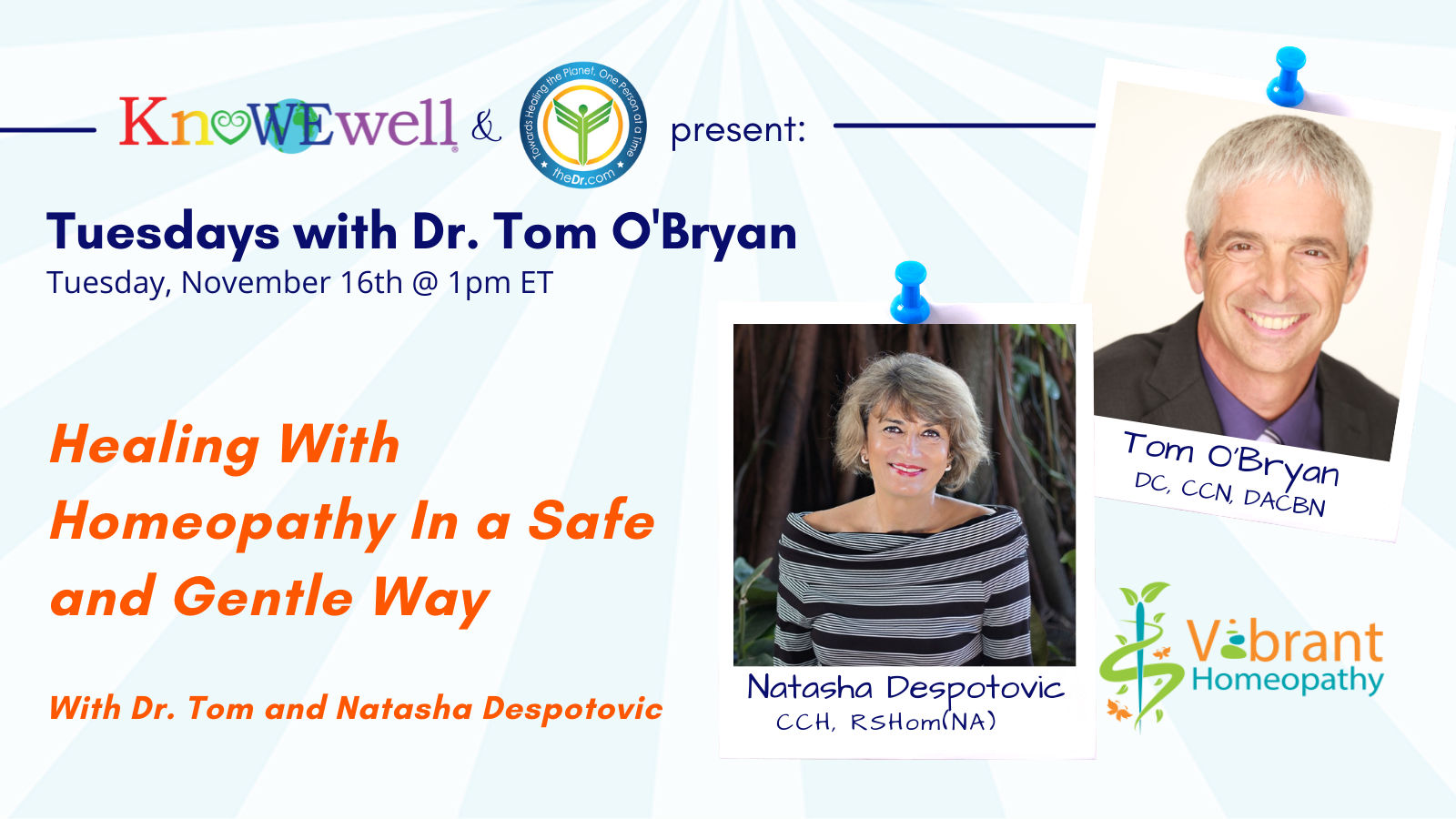 Tuesdays with Dr. Tom O'Bryan: Healing With Homeopathy In a Safe and Gentle Way

Natasha Despotovic, CCH, RSHom(NA), is a Council-certified homeopath. She treats acute and chronic ailments, including physical ailments, mental challenges, and emotional trauma from injuries, aches and pains, inflammatory and infectious diseases to chronic conditions, addictions, depression, anxiety and other mental health issues. With an adequate homeopathic remedy, chronic diseases can be reversed or stopped in their progression, with accompanying emotional and mental healing.  
Join her on Tuesday, November 16th, at 1PM EST as she sits down with KnoWEwell's Chief Health Officer, Dr. Tom O'Bryan, founder of theDr.com, to discuss her insights on homeopathy.  
In this episode you will: 
Learn the basic principles of homeopathy and why it is gentle, safe, effective, and has no side effects 
Gain an understanding of how homeopathic remedies work and how they support the immune system 
Gain insight into how different remedies are chosen and how various potencies are selected 
Acquire knowledge of tending to some common ailments and health challenges with some of the easily accessible homeopathic remedies, thus avoiding the use of more aggressive medications with possible side effects, while at the same time boosting overall health and the immune system 
KnoWEwell, P.B.C. 
KnoWEwell is the global Regenerative Whole HealthTM (RWH) benefits and services company. An award-winning, woman majority-owned, B Certified pending corporation, and 1% for the Planet member.  
We operate KnoWEwell.com, the one online destination for today's trusted RWH knowledge, resources, and ecosystem collaborating to inspire and empower individuals to prevent harm, address chronic disease, and achieve WELLthier Living TM.  
We are on a mission to transform healthcare. We share knowledge and healing success stories, offer access to screened, verified and background-checked RWH practitioners, provide expert-led and peer-reviewed content and evidence-based resources, create meaningful connections, and help today's practitioners, and mission-aligned nonprofits and businesses prosper.