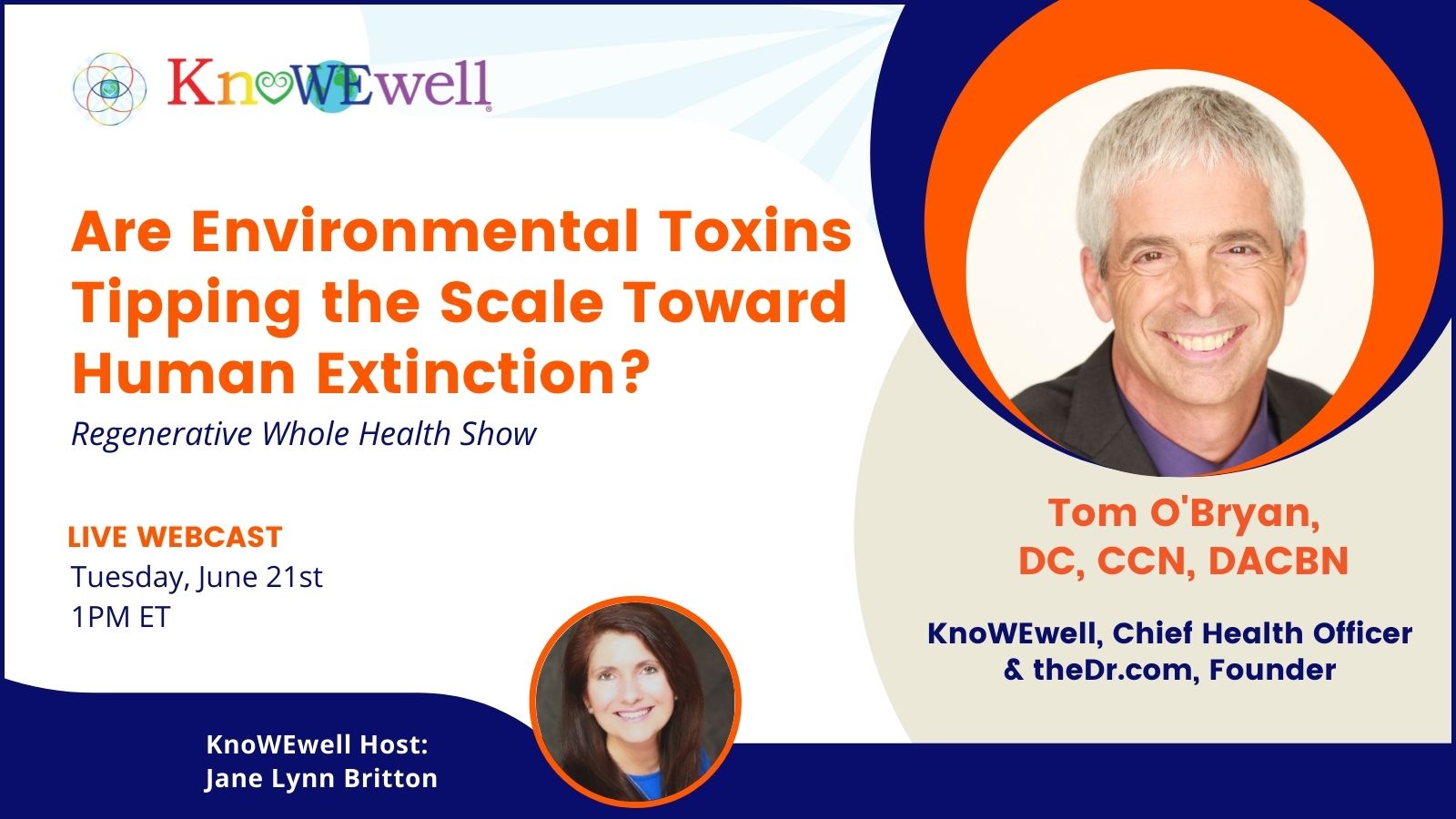 Regenerative Whole Health Show: Are Environmental Toxins Tipping the Scale Toward Human Extinction?

Birth rates have been steadily dropping across the globe for decades. Changes in social factors around delays in childbearing no longer explain these shifts in population.
Infertility rates for women and men are rising at an alarming rate. Studies have identified dramatic decreases in testosterone and sperm counts in just a generation, while testicular cancer and erectile dysfunction rise in younger men. The rate of miscarriages increases every year, and more and more women have been turning toward assisted reproductive technologies, like IVF, to conceive.
Join Dr. Tom O'Bryan, KnoWEwell's Chief Health Officer and founder of theDr.com, as he provides insight and understanding into infertility, its potential environment causes, and the steps you, your children and grandchildren can take to reduce those environmental impacts.
During this webinar you will learn about:
Population declines in the U.S. and around the world

The types and extent of male and female infertility

How science has started to connect infertility to environmental toxins, like those in the plastics you encounter every day

The steps you can take now to help protect your fertility and the future fertility of your children and their children
KnoWEwell.com
KnoWEwell operates the private and secure Regenerative Whole Health Hub – the all-in-one, global, trusted online health and well-being solution – bridging the knowledge, access, and insurance gaps. Centralizing knowledge, education, and evidence-based resources. Connecting the ecosystem to collaboratively help individuals prevent harm, address the root causes of disease, and achieve WELLthier Living™!
Did you know you can curate your own learning library?
Among our plethora of membership benefits, you can create your own library! With a KnoWEwell Pathfinder membership, you get access to KnoWEwell's Education Center with 50+ (and growing) educational programs from today's top thought leaders and experts. Learn how to prevent and address the root causes of chronic disease. Keep track of the programs you have already viewed and watch them anytime you or your family need help. Join today, apply code BEWELL20 and receive 20% off your Pathfinder membership (or any other membership plan). That's just $8 a month to get started on your journey to achieve WELLthier Living – Happy. Healthy. Abundant. Purpose-Filled!