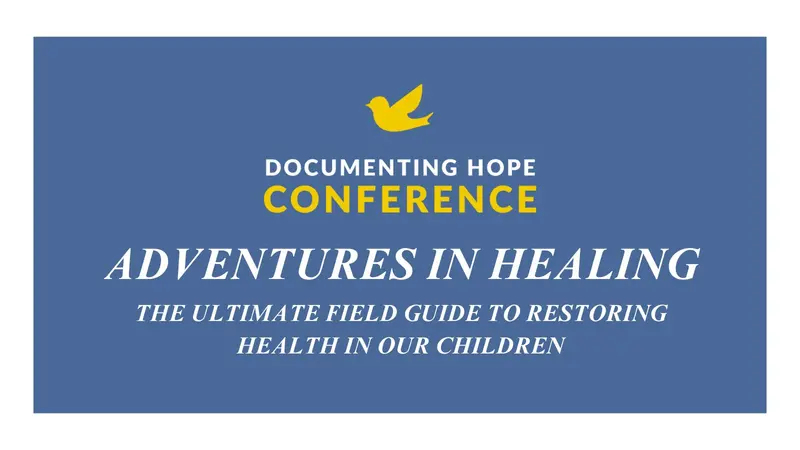 Adventures in Healing: The Ultimate Guide to Restoring Health in Our Children
Join Hundreds of Healthcare Professionals and Parents at Documenting Hope's Inaugural Conference for 3 days. For our 2023 Conference, we expect over 500 attendees who will come together to blaze the trail toward a new paradigm for children's health.
You'll learn how health professionals are working together from all arenas in healthcare to bring multi-modal solutions to children suffering from an epidemic of chronic disease. Adventures In Healing will show you actual documentation of how this approach can work for children struggling with a myriad of conditions.
Gain new insights on the proven strategies working today and see how small pivots can make the biggest impact on your family's (or patient's) health. Observe the real time trends in health and wellness—learn which interventions will make the difference and HOW to implement them within your family or practice. Get your questions answered and leave with the confidence you'll be doing everything you can to give your family and patients a fighting chance.
The Documenting Hope Project is a children's health and wellness research program created by Epidemic Answers, a 501(c)(3) nonprofit organization in collaboration with a coalition of physicians, parents, scientists, research and health organizations and experts in a cross-section of specialties ranging from bioinformatics to traditional healing.
Documenting Hope's two research projects are led by a team of dedicated professionals including: Executive Director Beth Lambert, Medical Director, Dr. Heather Tallman Ruhm, Programs Director, Josie Nelson, and world-renowned Former Harvard Pediatric Neurologist, Dr. Martha Herbert.
We have come together to re-think the way we approach children's health and wellness in the developed world. We know serious chronic conditions and developmental challenges can be overcome by optimizing the good influences on our bodies, reducing the harmful ones and using a "root causes" approach to healing. If this model is widely adopted, we have the opportunity to profoundly impact the future of our children and life on this planet.
Learn more and register here.