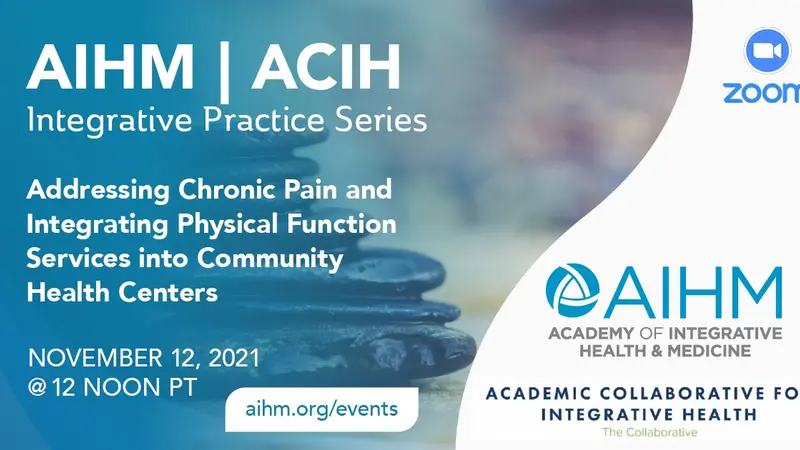 AIHM Webinar | ACIH Integrative Practice Series | Addressing Chronic Pain and Integrating Physical Function Services into Community Health Centers

Addressing Chronic Pain and Integrating Physical Function Services into Community Health Centers
This presentation will highlight the St. Louis Regional Health Commission's (RHC) Chronic Pain Initiative. The talk will focus on the three major work streams of the initiative: policy reform, public health communications, and clinical improvement. The majority of the presentation will review lessons learned from integrating physical function services (chiropractic, physical therapy, acupuncture, and occupational therapy) into St. Louis-based community health centers.
Heidi B. Miller, MD, is the Medical Director for Gateway to Better Health at the St. Louis Regional Health Commission. She also serves as a primary care doctor at Family Care Health Centers (Federally Qualified Health Center in St. Louis) and consults on health quality and equity issues for the St. Louis Integrated Health Network, Siteman Cancer Center's Breast Cancer Partnership, and the Missouri Primary Care Association.
Amanda Harris is the Director of Regional Initiatives at the St. Louis Regional Health Commission (RHC), where she leads the organization's Chronic Pain Initiative. Prior to serving in this role, Amanda received a Fulbright scholarship to conduct research on an intercultural birthing initiative in Chile. She graduated from Washington University in St. Louis in 2016.
The Academy of Integrative Health & Medicine is dedicated to engaging a global community of health professionals and health seekers in innovative education, leadership, interprofessional collaboration, research and advocacy that embraces all global healing traditions, to promote the creation of health and the delivery of evidence-informed comprehensive, affordable, sustainable person-centered care.