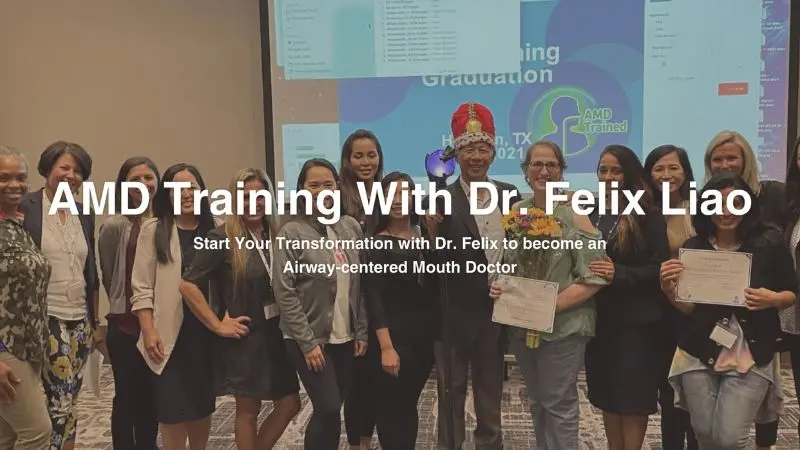 Airway Mouth Doctor (AMD) Training With Dr. Felix Liao

Airway Mouth Doctor (AMD) training empowers general dentists to become expert Airway Mouth Doctors in the diagnosis of Impaired Mouth Syndrome: oral contributions to a vast set of common medical, dental, cerebral, and mood symptoms seen in dental and all patients, including dentists themselves. As a trained AMD, you will be able to diagnose and treat airway issues in a holistic way. Eliminating snoring, sleep apnea, teeth grinding, TMJ, chronic pain, fatigue, and a host of other health challenges, without medication or surgery. The key is to correct the oral infrastructure so it supports ABCDES: Alignment, Breathing, Circulation, Digestion, Energy, and Sleep.
A new era of oral-systemic health is upon us, and it's high time for dentists like you to vastly expand your practice by becoming a true mouth doctor. Holistic Mouth Solutions is ready to help you succeed.
SEMINAR A
Oct 21-22, 2022
Bountiful, UT
Airway Mouth Doctor: Why? (16 CEUs)
Pivoting From Teeth To Airway & Mouth
WholeHealth Assessment & Demo
3D Jaw Diagnostics® Explained
Case Documentation
Know Your Epigenetics
---
SEMINAR B
Nov 4-5,2022
Tysons, VA
Delivery Of Your Own Appliance & 3D Jaw Diagnostics® Plus: (16 CEUs)
Start Thriving Appliance (STA®)

Delivery & adjustment of your appliance

Lab Rx of STA® based on 3D-Jaw Diagnostics®

Grand Rounds - Group diagnosis

Ready to start new cases on Monday
---
SEMINAR C
Dec 2-3, 2022  
Tysons, VA
Best Face For Children: (16 CEUs)
Maxilla Growth = Full Genetic Potential

Early Warning Red Flags

ProActive Epigenetic Essentials

What Parents Must Nurture

Grand Rounds Continue
---
SEMINAR D
Jan 20-21, 2023
Tysons, VA
WholeHealth Integration: (16 CEUs)
Mouth-Mind-Body-Health Connections

WholeHealth "Play Calling" & Teamwork

Systemic Risk Assessment In-Depth

Legal Risk Red Flags

Setting Case Fees