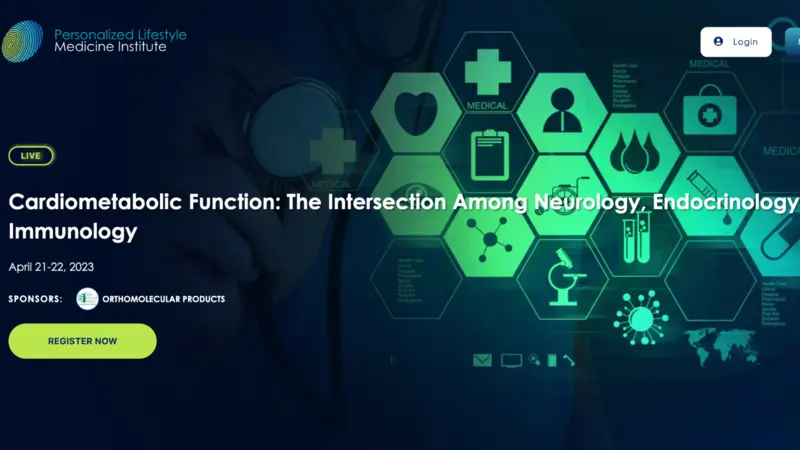 Cardiometabolic Function: The Intersection Among Neurology, Endocrinology, and Immunology
Cardiometabolic conditions may be the most identifiable, tested, and conventionally treated in medicine. Cardiometabolic risk (CMR) refers to risk factors that increase the likelihood of experiencing vascular events or developing diabetes. These conditions also pose the greatest risk of death, which is why they are a focus of conventional care. As functional medicine providers increase in demand, the demand for the functional approach to cardiometabolic conditions will also rise. Training functional providers on the importance of cardiometabolic evaluations, creating comfort in the recommendations for "risky" conditions, and connecting the body systems are essential. Every functional medicine provider sees patients that have been evaluated for cardiometabolic health are currently showing early signs of dysfunction, and have the opportunity to intervene in the 10-year period between dysfunction and disease.
During the 10-year period between dysfunction and disease, clinicians encounter patients showing neurological dysfunction with things such as low heart rate variability, irregularities in heart beats, and even blood pressure. Some of these intertwine with hormones, such as stress hormones like cortisol and sex hormones, as seen in the increase in female heart disease risk after menopause. With inflammation at the heart of any chronic disease, it's undeniable that the immune system plays a role, as well. One of the largest sources of body inflammation can come from chronic infections or the gastrointestinal tract. Everything is connected, and functional medicine provides the avenue to connect the early data points for a more successful intervention.
Clinical Challenges of Cardiometabolic Diseases:
One of the struggles encountered when treating cardiometabolic disease is the lifestyle change required by the patient. The most successful interventions involve improvement in dietary choices, exercise, and stress reduction. In the consumer market, you see many people taking advantage of the opportunities that wearables offer to monitor their own sleep, glucose, HRV, diet, and even movement levels. Integration of these wearables into actionable plans can create a working relationship between physicians and patients in a way that motivates patients and keeps them accountable.
This Conference:
For PLMI 2023, topics such as insulin resistance, inflammation, cholesterol, and blood pressure will be addressed, but through the lens of new innovative ways of both assessing and managing these conditions from a functional perspective. This conference will focus on new tools and interventions that improve both patient compliance and outcome. We are witnessing a virtual revolution in developing and clinically applying new methods for managing these complex metabolic conditions. These advances frame the focus on this conference as the next chapter in the clinical solutions series of conferences co-hosted by the Personalized Lifestyle Medicine Institute and Orthomolecular Products. This will be a "how to" conference and a "what to do" introduction to the latest in new clinical procedures.
Location
Renaissance Schaumburg Convention Center Hotel
1551 Thoreau Drive North Schaumburg, IL 60173 United States
Learn more and register here