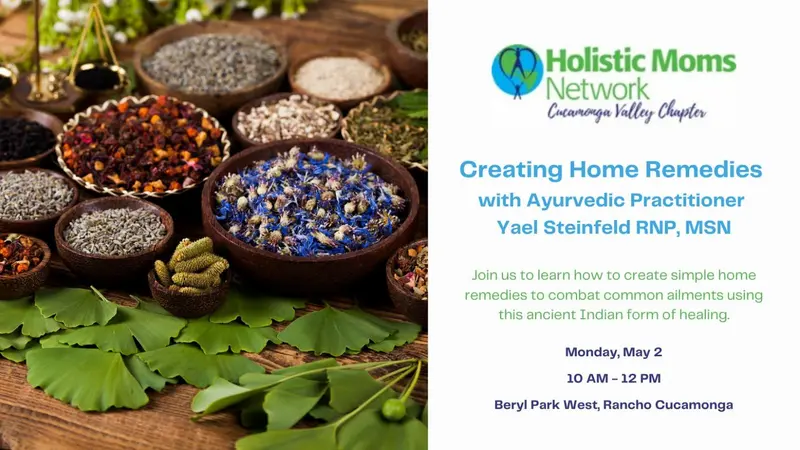 Creating Home Remedies with Ayurvedic Practitioner Yael Steinfeld RNP, MSN - Holistic Moms Network Abilene, TX Chapter
Join the Holistic Moms Network of Cucamonga Valley for a workshop to learn how to create simple home remedies to combat common ailments with Ayurvedic Practitioner Yael Steinfeld RNP, MSN. Ayurveda is a science of medicine that originated in India 5,000 years ago and focuses on healthy lifestyle, prevention of disease, and rejuvenation. This event is open to non-members.
ABOUT YAEL: Yael came to California for a job at Kaiser Fontana as an Internal Medicine Nurse Practitioner (RNP, MSN), after years at OSU hospital's surgical ICU. One early day in 2007, she heard a short presentation on Ayurvedic medicine that was deeply inspiring. Naturally, she enrolled in the 2 years program. Then joined her teacher on a fascinating journey to India before opening her clinic in Claremont. Over the years, she's taken many workshops at Kerala Academy School of Ayurveda, where she is now completing the Doctor of Ayurveda degree.
In her clinic of 11 years, she is inspired time after time from healing clients from illnesses such as: stage IV cancer, autoimmune diseases, irregular heartbeat, rheumatoid arthritis, Crohn's disease, acid reflux, anxiety/depression and more. For more information, please visit: www.ayurvedichealing.info
The Holistic Moms Network is a nonprofit support and discussion network. Our mission, as a membership-based 501(c)(3) organization, is to connect parents, both in-person and online. We encourage parenting from the heart, natural health, and green living. We welcome people wherever they are on their own holistic path in an environment that does not judge. Our local communities are led by volunteer community organizers, and gather at least once a month. Everyone is welcome to attend an event or two before becoming a donating member. For a $30 tax-deductible annual donation, you gain access to your local chapter monthly gatherings, local and national online groups, group purchasing options, and other local offerings and national member benefits. Membership scholarships are available. Learn more at https://www.holisticmoms.org/connect/