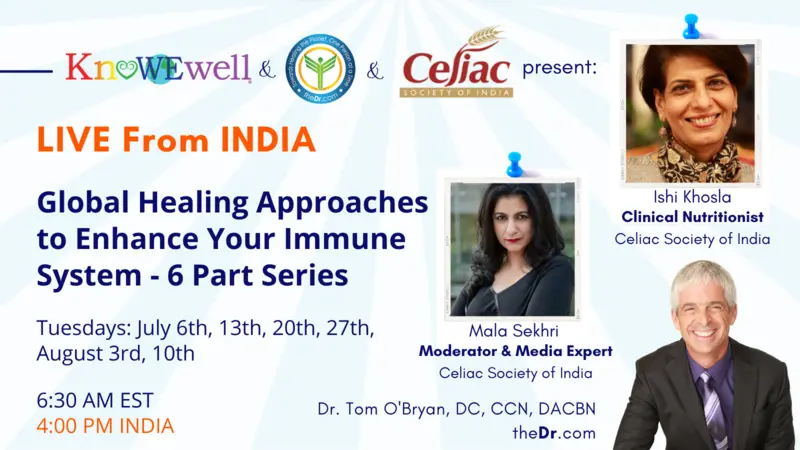 Global Healing Approaches for Enhancing Your Immune System Capabilities - 6 Part Series
Why This Series?
For the past 18 months, we have lived in the worst kind of threat to our health: a deadly, invisible enemy out there attacking our immune system. Never in our lifetime, have we been more aware of the dangers of a compromised immune system.
Series Description
In this important 6-part series, we look at the most critical aspects of the immune system, and how we can tap into ancient, integrative, mainstream, and cutting-edge practices to make it efficient and enhance its ability to handle day-to-day stresses and disease. In this series, we explore a Regenerative Whole HealthTM ("RWH") approach from top experts around the globe who will help you transform your body's ability to handle disease and give you realistic approaches to protecting yourself and your family. 
LIVE from India and other parts of the world, the series will feature experts such as Dr. Tom O'Bryan, KnoWEwell Chief Health Officer; Ishi Khosla, Clinical Nutritionist and President of the Celiac Society of India; Dr. Madiha Saeed, the KnoWEwell Director of Education; and a plethora of world authorities in whole health, naturopathy, homeopathy, fitness, mental health, and happiness. 
In Part 1, you will learn:
What is our Immune System? What is its job in the body?
What is our immune system made of and how do we realize its full potential?
How does the immune system respond to external threats on a day-to-day basis?
What are the factors that build up good immunity?
What I can control to start the journey towards building a more robust immune system
3 top recipes for a healthy immune system from our experts
In Part 2, you will learn:
What are the benefits of Homeopathy, Ayurveda and Naturopathy
How using these three therapies can help build your immune system
How to apply these ancient sciences to modern life
2 top recommendations from each experts on building and sustaining a healthy body
In Part 3, you will learn:
Essentials of good nutrition
What is "healthy food" and how to eat clean
How small interventions can produce big results
The role of supplements and micro nutrition
Focusing on Indian foods
Nutrition for different health conditions
Superfoods – a reality or a myth?
Achieving nutritional balances in everyday consumption
In Part 4, you will learn:
How to cook for better health
Healthy cooking methods
4-6 key recipes for good health
Key food supplements to include in your recipes, like chia & flax
Small interventions : Big changes
Grandma knew best ! Eat for your age
In Part 5, you will learn:
Breathe!! De-ep breathing to De- stress
Simple techniques to manage stress and anxiety
The power of positive thinking
Simple happiness mantras
Stop worrying: Start living
In Part 6, you will learn:
Exercising for long term health and vitality
Simple exercises to boost your immune system
Circulation , circulation , circulation
How to get going first thing in the morning
Stre------ccch! The key to energy and flexibility
Work and exercise- a burst of consistency
How much is too much