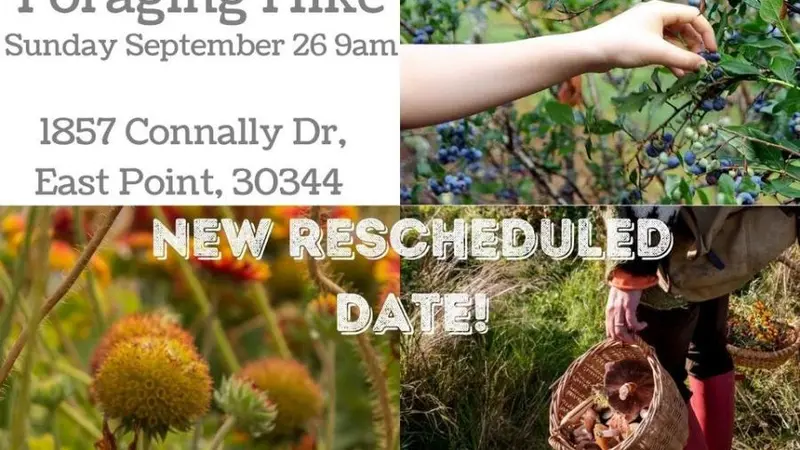 Holistic Foraging Hike Holistic Moms Network West Atlanta Metro, GA Chapter
We are so excited to announce that we have rescheduled this foraging hike and are looking forward to meeting all the holistic/natural families in Atlanta on Sunday, September 26 at 9am.  Join the West Atlanta Metro Chapter and our trail guide Fatima Mathews (certified herbalist, yogi and forager) on an informative hike to learn about the wild plants and berries that are growing this time of year right in the heart of Atlanta.
Parking is available at 1857 Connally Dr, East Point, GA 30344. We will meet there and then be led to a trail by our guide. Foraging hike will start promptly at 9am due to availability of the parking lot (it's at a church and they will be holding services there that day). Event is family friendly and we will have about an hour or so on the hike. This event will take place rain or shine. (But hopefully shine!)
Let us know you're coming to help us get a better head count. See you Sunday! 
The Holistic Moms Network is a nonprofit support and discussion network. Our mission, as a membership-based 501(c)(3) organization, is to connect parents, both in-person and online. We encourage parenting from the heart, natural health, and green living. We welcome people wherever they are on their own holistic path in an environment that does not judge. Our local communities are led by volunteer community organizers, and gather at least once a month. Everyone is welcome to attend an event or two before becoming a donating member. For a $30 tax-deductible annual donation, you gain access to your local chapter monthly gatherings, local and national online groups, group purchasing options, and other local offerings and national member benefits. Membership scholarships are available. Learn more at https://www.holisticmoms.org/connect/