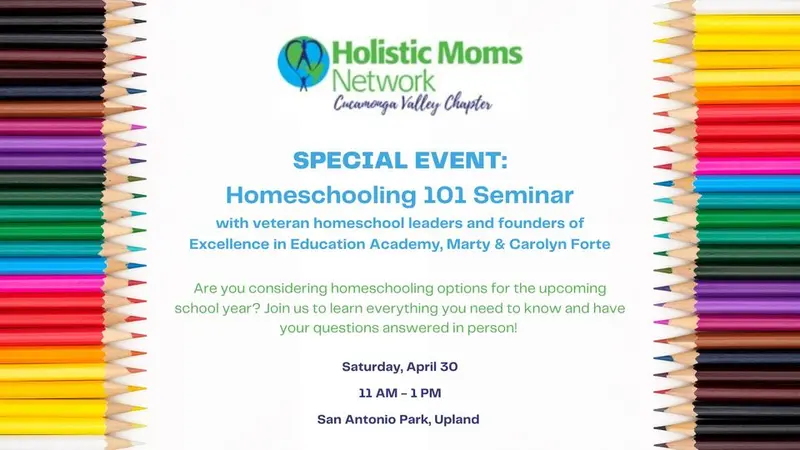 Homeschooling 101 Seminar - Holistic Moms Network Cucamonga Valley, CA Chapter
Join the Holistic Moms Network of Cucamonga Valley for our annual Homeschooling 101 Seminar with veteran homeschool leaders and founders of Excellence in Education Academy, Marty & Carolyn Forte.
Are you considering homeschooling options for the upcoming school year? Join us to learn everything you need to know and have your questions answered in person! Seasoned homeschool families are also encouraged to attend for networking and to share their experiences.
Discussion points will include: -What is homeschooling? -What are the legal options in California? -How do I know if I can do it? -Can I homeschool if I work full-time? -Do I need to use a curriculum? -What about socialization? -Do homeschoolers go to college? -What are the different types of learning styles? -How do I find a support group or other help?
If you have any specific questions you would like to submit ahead of time, feel free to leave a comment.
We will be stressing the need of forming a support network as you embark or extend your homeschool journey! Plan to meet new friends, share resources and make connections with Holistic Moms Network Cucamonga Valley! We're here to support you!
We will be meeting under the shaded picnic benches, but we encourage you to bring whatever you may find necessary for yourself and family (blanket or chairs, lunch, etc.) Bathrooms are nearby and the playground is perfect for young ones!
The Holistic Moms Network is a nonprofit support and discussion network. Our mission, as a membership-based 501(c)(3) organization, is to connect parents, both in-person and online. We encourage parenting from the heart, natural health, and green living. We welcome people wherever they are on their own holistic path in an environment that does not judge. Our local communities are led by volunteer community organizers, and gather at least once a month. Everyone is welcome to attend an event or two before becoming a donating member. For a $30 tax-deductible annual donation, you gain access to your local chapter monthly gatherings, local and national online groups, group purchasing options, and other local offerings and national member benefits. Membership scholarships are available. Learn more at https://www.holisticmoms.org/connect/