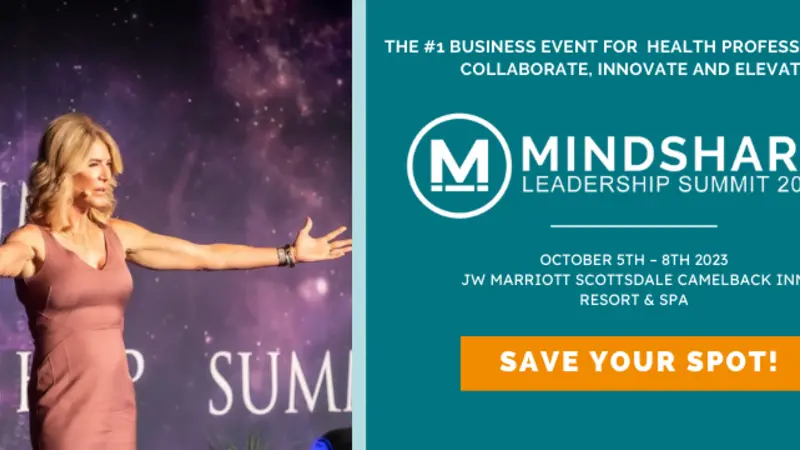 Mindshare Leadership Summit - 2023

PROVIDERS / PRACTITIONERS
Join KnoWEwell's Founder/CEO, Kimberly Whittle, VP of Operations, Dr. Brian Stenzler, and dozens of KnoWEwell's providers and partners at the #1 business event for health professionals to collaborate, innovate and elevate! 
Here's what you need to know and what you can expect:
EVENT THEME:

All The World's Your Stage… plus The Brass Ring & The Ringmasters (shark tank-esque competition)

LOCATION & VENUE:

JW Marriott Scottsdale Camelback Inn Resort & Spa, Scottsdale, Arizona

DATE:

 

October 5th to 8th, 2023

AFTER-PARTY THEME: 

The Greatest Show on Earth ~ Circus (one of the most memorable - and fun parts of the whole event!)
YOU CAN EXPECT TO... 
👂 Hear firsthand "how they did it". Skip the guesswork and know exactly what's working from those who've already figured it out and got the business results you desire.
🔎 Discover the strategies that are working. And the real-time trends that you need to jump on, now!
✅ Have your most challenging questions answered. During the hot seat and breakout sessions the best minds in the industry will get to work on YOUR business WITH you. You'll leave with a clear plan to achieve your goals.
If ALL of that weren't enough… it's tax deductible too!
ENJOY:
3 days of learning and networking
7+ opportunities to connect 
15+ expert-led workshops and breakout sessions
500+ industry experts and leaders
SPEAKERS:
All attendees will have access to learn from the greatest minds in healthcare, business and personal development, including: