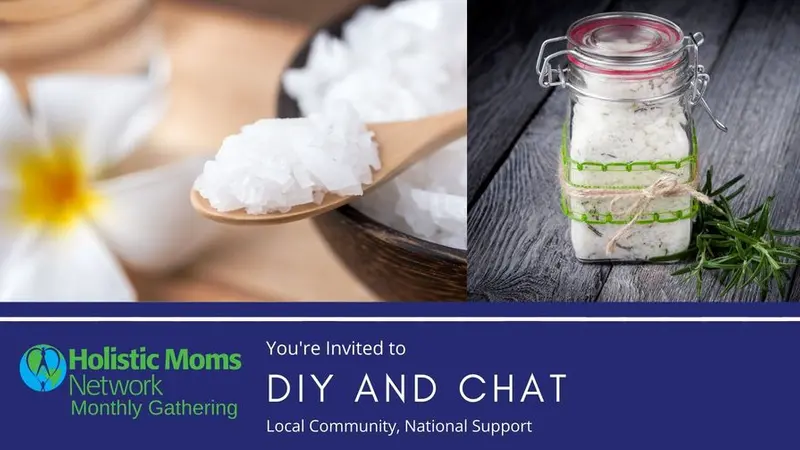 Monthly Gathering DIY and Chat - Holistic Moms Network Morris County, NJ Chapter
Join us for a fun, casual, easy DIY and chat.
We will be making 2 simple DIYs that are great as gifts to others or to yourself!
Please read the details so you know what to bring with you.
We will be making:
DIY Citrus Salt Scrub Ingredients: • Sea Salt (supplied) • Refined Coconut Oil (supplied (limited)) • Essential oils (grapefruit and lemon supplied, bring your personal favorites) • Small Canning Jars (4 oz recommended) or other small jar (please bring your own, or contribute $2 to cover the cost)
DIY Linen Spray Ingredients: • 2 ounce glass spray bottle (limited quantity supplied; bring your own if possible) • 2 ounces distilled water (supplied) • 30 drops of essential oil (see below)
We encourage you to bring your favorite essential oils with you for yourself and/or to share. We will have some on hand. Here are some options for types of essential oils to make various blends. We will have information/'recipes' on combinations and their purpose/feel so you can choose:
• Grapefruit (1 bottle supplied) • Lemon (1 bottle supplied) • Lavender (1 bottle supplied) • Peppermint (1 bottle supplied) • Rosemary (1 bottle supplied) • Atlas Cedar (1 bottle supplied) • Sweet Orange (1 bottle supplied) • Eucalyptus • Cypress • Basil • Thyme • Oregano • Spearmint • Lime
There is a gravel parking lot in front of the playground. Feel free to park there.
The Holistic Moms Network is a nonprofit support and discussion network. Our mission, as a membership-based 501(c)(3) organization, is to connect parents, both in-person and online. We encourage parenting from the heart, natural health, and green living. We welcome people wherever they are on their own holistic path in an environment that does not judge. Our local communities are led by volunteer community organizers, and gather at least once a month. Everyone is welcome to attend an event or two before becoming a donating member. For a $30 tax-deductible annual donation, you gain access to your local chapter monthly gatherings, local and national online groups, group purchasing options, and other local offerings and national member benefits. Membership scholarships are available. Learn more at https://www.holisticmoms.org/connect/