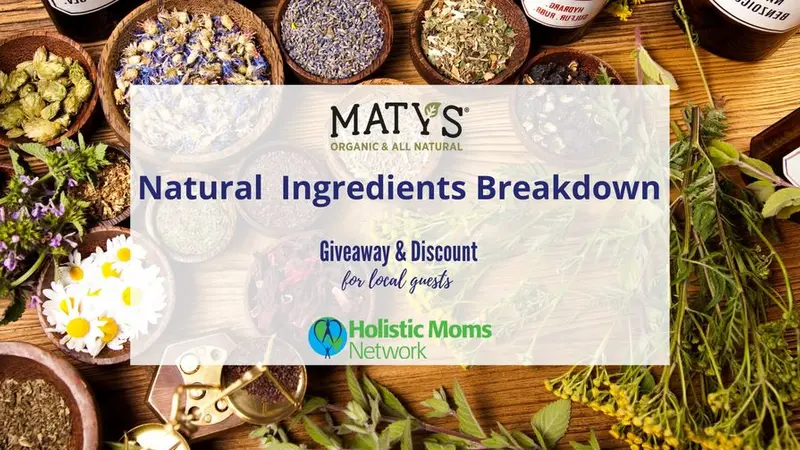 Monthly Gathering - Natural Ingredients Breakdown *With Gifts from Maty's*- Holistic Moms Network Sussex County, NJ Chapter
Join us to learn more about natural products, ingredients, and DIY remedy recipes for your children and your family! Learn key remedies, and what you should have on hand at home.
*Local Members and guests will have a chance to receive Maty's products to use at home, as well as a discount code on their products. We will also provide a booklet from Maty's, a packet of info, and recipes from HMN and EcoParent magazines.*
About Maty's: When Carolyn had her baby girl she was ecstatic and named her Maty. Joy turned to fear when she learned Maty was born with congenital heart defects. Maty developed medical conditions that modern medicine didn't have treatments for, so Carolyn became a mom on a mission. She began researching and combining ingredients from her kitchen, creating remedies with real ingredients. What started as a need to help her family became Carolyn's mission to help everyone.
The Holistic Moms Network is a nonprofit support and discussion network. Our mission, as a membership-based 501(c)(3) organization, is to connect parents, both in-person and online. We encourage parenting from the heart, natural health, and green living. We welcome people wherever they are on their own holistic path in an environment that does not judge. Our local communities are led by volunteer community organizers, and gather at least once a month. Everyone is welcome to attend an event or two before becoming a donating member. For a $30 tax-deductible annual donation, you gain access to your local chapter monthly gatherings, local and national online groups, group purchasing options, and other local offerings and national member benefits. Membership scholarships are available. Learn more at https://www.holisticmoms.org/connect/