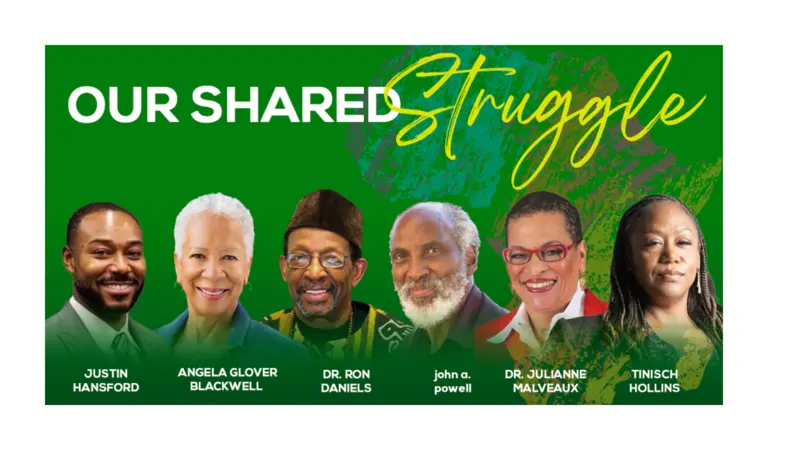 Our Shared Struggle: The International Imperative for Repair

The African Diaspora has a shared struggle to live free from violence and colonization. Centuries of unrelenting exploitation and harm require a substantive conversation of reparative acts from state and corporate entities that have contributed to this violence and accumulated massive capital and economic gain. This conversation will seek to explore the efforts to redress these harms and expand the conversation around what reparative relief looks like in our current context.
Join in person or via live stream.
Speaker Series
Developed in collaboration with Pastor Michael McBride and Sherrie Deans of Live Free USA, the Speaker Series will bring together some of the biggest names in culture, art, sports, and activism. Through panel discussions, performance, and collective healing practices, the six-part series offers a platform to those most affected by state-sanctioned violence and a constructive framework for how we understand the intersections of art, suffering, and healing.
About Kehinde Wiley: An Archaeology of Silence
When Kehinde Wiley's exhibition, "An Archaeology of Silence," opens in the United States on March 18, the most important room some viewers might enter is one with no artwork at all.
The "respite room" at the de Young Museum in San Francisco will be an area where visitors can take a breath and regain their composure after viewing the display of almost billboard-size paintings and huge sculptures of Black men and women in sometimes crumpled positions — struck down, resting, wounded or dead — in settings that reference iconic Western paintings of religious and mythological subjects.
The show has a particular resonance opening in a nation reeling from the latest in a string of police killings of Black men — merely one segment of a long national timeline of brutality against Black and brown people.
Wiley made the pieces, an extension of his body of work called "Down," in the months following the 2020 killing of George Floyd while in police custody.
"I wanted to create an American story that can be appreciated by all parts of the globe," Wiley said on a recent afternoon in his sprawling Williamsburg, Brooklyn, studio, where various works-in-progress were propped against one long wall. "In America, to be honest, there's a different type of relevance."
"The U.S. has a special relationship with systemic violence against Black people," said Abram Jackson, the director of interpretation at the Fine Arts Museums, a permanent position the museum created just last year.
He has sought the input of community groups for many aspects of the exhibition including careful parsing of the text that accompanies the art. The museum will offer free admission to the exhibition on several weekends, helped by a $1 million grant from Google.org, the company's philanthropic arm.
"Today, we have an expanded notion of harm, and no museum wants to be in the business of creating a context of harm," Tom Eccles, the executive director of Bard College's Center for Curatorial Studies, says. "You're going to get very strong responses from people having experiences that museums are not used to, and how does one accommodate that audience? Museums are literally feeling around in the dark."