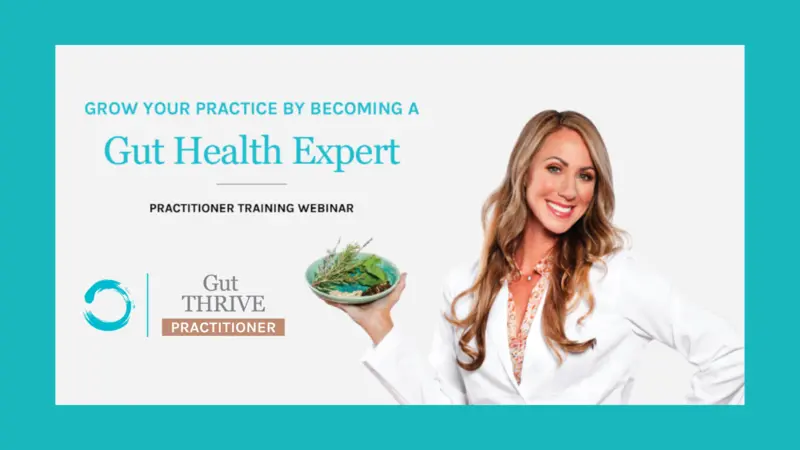 Practitioner Training: Become a Gut Health Expert to Help Patients and Grow Your Practice

These patients need your help! Gut health issues have reached unprecedented levels…
Christa Orecchio, CN, HHC, and founder of The Whole Journey, will show you why so many new gut health patients desperately need your help and how her exclusive and highly customized Gut Thrive Protocols that have had a 95+% success rate with over 8,000 clients! This powerful process is reversing autoimmune and chronic digestive disease by the legions, eliminating years, if not decades of chronic pain, and helping people take their health back. 
During this educational training, you'll learn:
Why the growing gut health trend is in dire need of skilled practitioners like you to step up and become true experts in this field
The REAL story behind the 95% success rate of the Gut Thrive Protocols… and why it's SO different and more powerful than what most practitioners are doing right now
What each of the five gut-healing steps are in detail
How to tell which of the step-by-step gut thrive protocols are right for your clients or patients (and how to customize each one differently)
Powerful gut thrive case studies: How Dean and Tony healed their gut, reversed autoimmune disease, and took back their lives
Would you like to tap into the growing gut health trend and become a leader in this field?
Become a Gut Health Expert in 3 Months
If you would like to become a leading Gut Health Expert in the next 3-4 months and get trained in our exclusive Gut Thrive Protocols , then make sure you're registered for this upcoming practitioner training to find out how to add this service to your business in 2022.
Your Hosts
Christa Orecchio, CN, HHC
thewholejourney.com
Christa has been a clinical and holistic nutritionist for the past 15 years.  She's dedicated to helping individuals use food as medicine to heal from the root cause and specializes in digestive and hormonal health with her very popular online programs including her blockbuster gut microbiome rejuvenation program she and her clinical team have taken over 8,000 clients with a 95% success rate. 
Christa is also the best-selling author of four books, a sought-after speaker, and the host of three health and wellness TV shows with a collective reach of over three million.
The gut microbiome work she will be teaching you how to administer provided for a multi-six figure, 6-month referral-based, waitlist practice for 8 years. Christa then took this work online into a multi-seven figure business. The success is a result of how much people NEED this work and how incredibly effective it is. We need to focus on terrain theory vs. germ theory, and help our clients and patients heal their inner terrain to safeguard their health and experience of life, and in a pandemic world, this has never been more relevant or important.
Jack Tips, Ph.D., CCN, C.Hom
wellnesswiz.com
Jack Tips, Ph.D., CCN, C.Hom has dedicated his career to advancing the application of natural health practices and bringing to bear the latest research in his own clinic as well as passing on his vast knowledge to others.
His teaching style has been honed to cut through the scientific chatter to the true essence of the latest natural health research. He has been a gut microbiome specialist for the last 30+ years, has had many thousands of private clients, and taught thousands of clinicians how to advance their practice.
You'll walk away from your interactions with Jack with valuable techniques you can immediately apply to your practice.