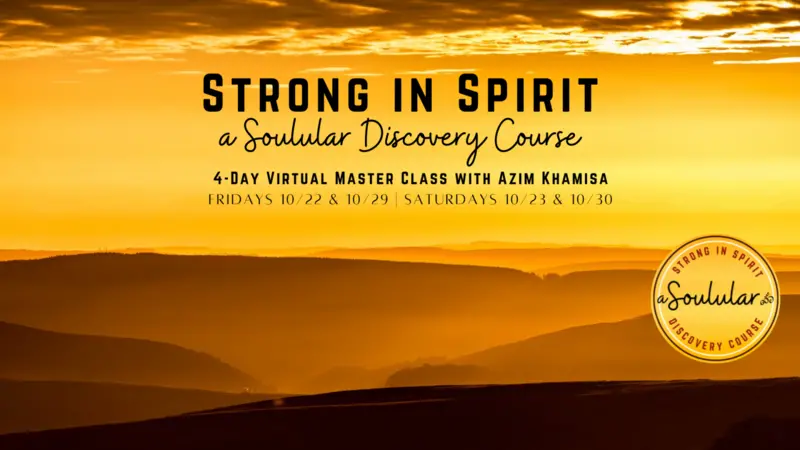 Strong in Spirit: a Soulular Discovery Course (4-day Virtual Master Class )

Strong in Spirit: a Soulular Discovery Course
Master Series Overview
This 4-day virtual event is more than meets the eye. Azim is a forgiveness master and a thought leader. He has been offering in-person workshops on this material for 25 years and has perfected his "peace formula." Not only that, Azim has developed was way to utilize the steps of healing past traumas into a platform to develop stronger spiritual resiliency, inner peace, and purpose for your life moving forward. The event is a blend of like-minded people who want to heal, transform, and love their life the fullest.
WHEN:
Fridays & Saturday 10/22-23 & 10/29-30
(2 Consecutive Weekends with a Tuesday Mid-Week Check-In)
1:00 PM - 5:30 PM (PT) on Fridays (10/22 & 10/29)
9:00 AM - 1:30 PM (PT) on Saturdays (10/23 & 10/30)
Azim offers daily lectures, handouts, and homework to help you forgive yourself and others for ANYTHING and EVERYTHING that you are carrying.
The 3-step process that Azim has perfected over his 25-year career as a keynote speaker and workshop facilitator is a tool you will have for the rest of your life to respond to all of life's challenges.
Registrants receive a signed copy of Azim's book, Secrets of the Bullet Proof Spirit, which serves as the backbone of the conference. The program also includes exclusive access to Azim's inner-circle Soulular community of like-minded people for support and connection, daily email digests & inspiration, and a step-by-step program guide for the deep-dive into forgiveness.
There will be at least TWO 15-minute breaks included as well as time for journaling and reflection. The conference also includes meditations and closing reflections. 
The conference is based on the work Azim has been teaching in his workshops for over 25 years and is now available to you anywhere, and everywhere for an incredible price. 
Azim Khamisa is a rare individual who not only speaks of powerful and life-changing concepts but also walks his talk. Before audiences of the young and adult, as well as the public and the corporate, Azim delves deeply into hearts and souls, inspiring hope, courage, and personal growth, along with providing steps to join him on the journey of peace and purpose. Through workshops, keynote speeches, and consulting, Azim carries the message that peace can be restored, no matter what has gone before. His simple 3-step process of forgiveness and his 4-step process of redemption (self-forgiveness) untangle the mystery behind atonement and set people free to enjoy a life full of richness and meaning. In the end, audiences are inspired with a life-changing story of redemption, forgiveness, and personal power through purpose-driven action.