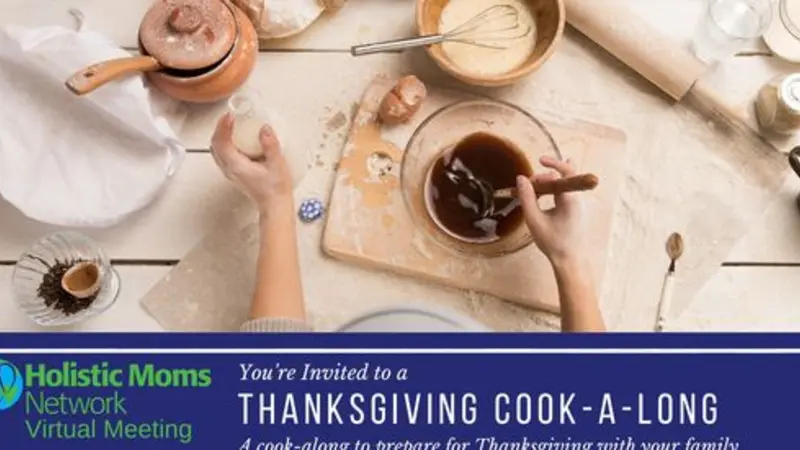 Thanksgiving Cook-A-Long

Members and guests around the country are welcome to participate and join us in a fun cooking session, as we all prep for the holidays. Watch or cook-a-long, and connect with others around the country!
We'll be making a fabulous side dish of maple roasted brussel sprouts and butternut squash, with nuts and bacon optional. This side dish is easy to make and great to have for Thanksgiving or any meal.
To satisfy our sweet tooth, we'll also be making a delicious harvest apple pie with a gluten-free, casein free pie crust or a 100% whole wheat version. Both crust options are easily adapted to vegan and many other dietary preferences.
What you'll need:
Join us in our Zoom meeting and receive a digital copy of the recipes

If you'd like to cook-a-long, here's what you'll need to have on the day of the Zoom:

Ingredients from the shopping lists in the discussion.

A clean prep surface

A pastry blender, 2 forks, 2 knives, or a food processor to create the pie dough

1 sharp knife or pastry cutter

Rolling pin

Parchment paper or silpat

Several mixing bowls and mixing spoons

A small pot (at least 2-3 cup size)

Pie tin

Jelly roll pan or baking sheet (to put pie tin on to protect from spills)

Baking dish for vegetables (8x8 size or 1 quart casserole dish)

Use of stove, hot plate, or microwave

Use of oven

If possible, but not necessary - pre-measure/prep all ingredients before the Zoom