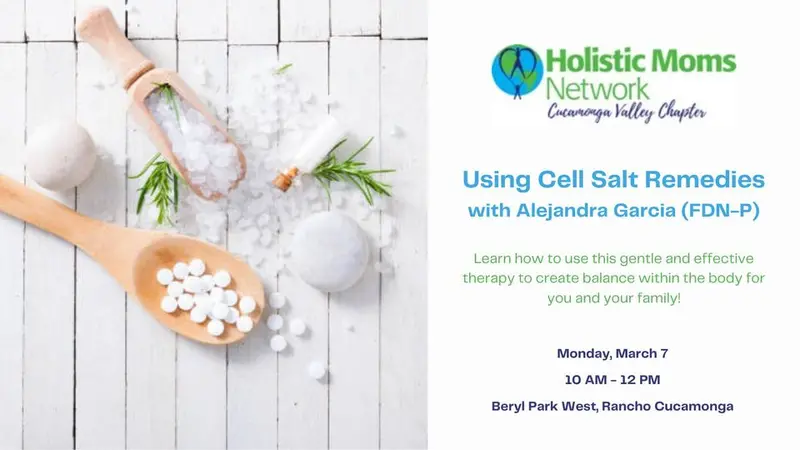 Using Cell Salt Remedies with Alejandra Garcia (FDN-P) - Holistic Moms Network Cucamonga Valley CA Chapter
Join the Holistic Moms Network of Cucamonga Valley for a workshop to learn about using cell salt remedies, which are designed to support the body and work at the cellular level in addressing physical and mental/emotional imbalances.
Functional Diagnostic Nutrition Practitioner, Alejandra Garcia, will share how using this gentle therapy can provide basic mineral balance for you and your family. This event is open to non-members.
During this workshop, you will learn:
The hierarchies of these mineral-based remedies
Which cell salts are ideal for women needing support in various areas including: back/join pain, headaches, earaches, cramps, cough, constipation/diarrhea, mental/emotional exhaustion, etc.
Why these remedies are ideal for children
Exact instructions on how to take cell salts.
PLUS, attendees will receive a freebie and have chance to win a raffle for two one-hour consultations!
ABOUT ALEJANDRA Alejandra Garcia, (FDN-P) is founder of Sol Garcia Health LLC, a health coaching company that works with moms 35 yrs+ who are noticing changes in their health, despite their healthy ways. She believes passionately that supporting women in the aspects of health and wellness is a fundamental way to educate and create strong, holistic families so that together they can give back to the world.
As a veteran homeschooler of 16 yrs and a long-time HMN member, Alejandra has acquired the knowledge and experience of raising a happy, healthy family that can thrive despite the modern day stressors of our fast-paced culture. Her mission in life is to inspire others to work with their body's innate healing ability and learn how to optimize their health for vitality, resilience and longevity. Find her on Instagram @solgarcia.health
The Holistic Moms Network is a nonprofit support and discussion network. Our mission, as a membership-based 501(c)(3) organization, is to connect parents, both in-person and online. We encourage parenting from the heart, natural health, and green living. We welcome people wherever they are on their own holistic path in an environment that does not judge. Our local communities are led by volunteer community organizers, and gather at least once a month. Everyone is welcome to attend an event or two before becoming a donating member. For a $30 tax-deductible annual donation, you gain access to your local chapter monthly gatherings, local and national online groups, group purchasing options, and other local offerings and national member benefits. Membership scholarships are available. Learn more at https://www.holisticmoms.org/connect/