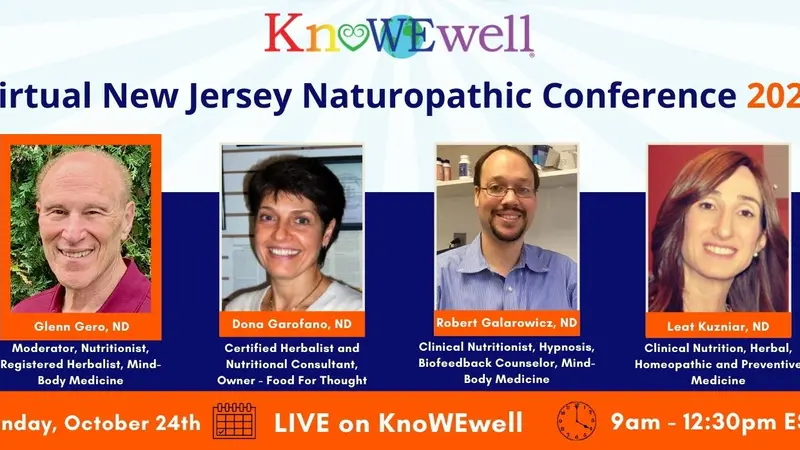 Virtual New Jersey Naturopathic Conference 2021

Join us for a ND practitioners' exchange of ideas with the top Naturopathic Physicians in the Garden State for the first time since November 2019. Created and moderated by Dr. Glenn Gero and hosted by KnoWEwell, experience this dynamic virtual conference where naturopathic doctors share their knowledge and experience to help the community continue to grow and assist the individuals they serve.
See the registration page above for more information and hover over our speaker images for their full bios.
Topics and experts will include:
"Assessment of Physiological Imbalances by Analyzing Dried Blood Samples"
Dona Garofano, ND, CNC, MH
Naturopathic Doctor, NJ Health Officer, Certified Master Herbalist, Certified Nutritional Consultant
Owner - Food For Thought
"Natural Approaches for Chronic Kidney Disease"
Robert Galarowicz, ND
Naturopathic Doctor, Clinical Nutritionist, Hypnosis, Biofeedback Counselor, Mind-Body Medicine
"A SIBO Primer:  Naturopathic Perspectives on Treating Small Intestine Bacterial Overgrowth" 
Leat Kuzniar, HBSc ND
Your Natural Path to Health Clinic
Naturopathic Doctor, Nutrition, Botanical & Homeopathic Medicine, Lifestyle Counseling
"Global Consciousness, Unity, Hope and Healing" 
Kimberly B. Whittle, CEO and Founder
KnoWEwell, P.B.C. 
KnoWEwell, P.B.C.
KnoWEwell is the global Regenerative Whole Health (RWH) benefits and services company. An award-winning, woman majority-owned, B Certified pending corporation, and 1% for the Planet member.
We operate KnoWEwell.com, the one online destination for today's trusted Regenerative Whole Health knowledge, resources, and ecosystem collaborating to inspire and empower individuals to prevent harm, address chronic diseases, and achieve WELLthier LivingTM. 
We are on a mission to transform healthcare, as we share knowledge and healing success stories, offer access to screened, verified and background-checked RWH practitioners, provide expert-led and peer-reviewed content and evidence-based resources, create meaningful connections, and help today's providers, and mission-aligned nonprofits and businesses prosper.