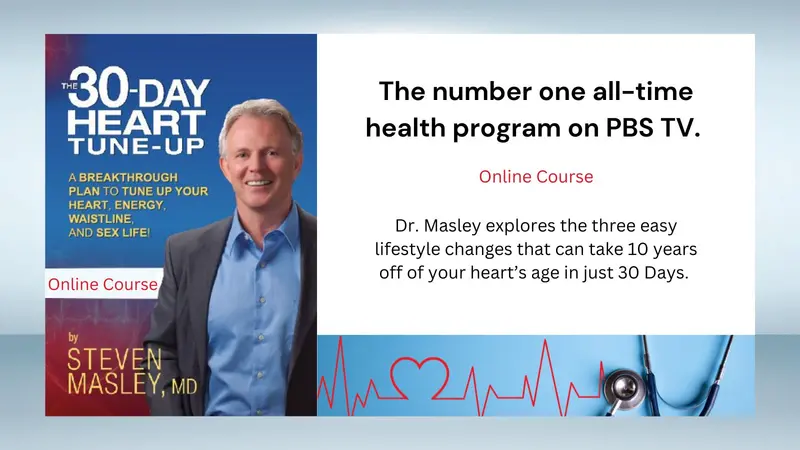 The 30-Day Heart Tune-Up

Dr. Masley explores the three easy lifestyle changes that can take 10 years off of your heart's age in just 30 Days. You too can tune up your heart, energy, waistline, and romantic life. No matter how old you are, or how much you weigh or even the health battle you are facing, no one has to be on a one-way street to aging and disability.
By enrolling in this course, you will get access to: 
- The 30-Day Heart Tune-Up by Steven Masley, MD: This hour-long program is split into three easy-to-understand videos.
- Bonus Videos: Get answers to frequently asked questions (FAQs) and learn how to manage your stress to improve heart health. 
- Bonus Audio Guides: Listen to Dr. Masley explain how to assess and enhance your brain performance and how to reduce joint pain and inflammation.
- Book Preview: Preview the first chapter of Dr. Masley's book, The 30-Day Heart Tune-Up: A Breakthrough Medical Plan to Prevent and Reverse Heart Disease.
- Heart Tune-Up Shopping Card: This a convenient list to remind you of the Top 5 Foods Categories for Your Heart. 
About Dr. Steven Masley, FAHA, FACN, CNS, CCD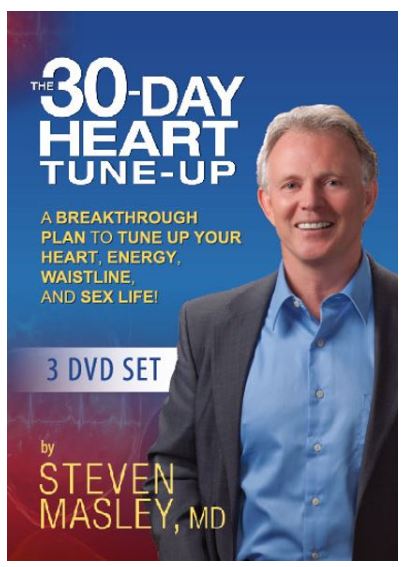 Through his bestselling books, successful clinic, PBS programs, thriving online community, and educational outreach, Dr. Masley inspires a new generation of enlightened and empowered health care consumers to take control of their health through knowledge and direct, intentional participation in the care they receive.
His practical approach toward educating consumers about their health, treatment options, nutritional regiments and scientific research provides a roadmap for thousands of individuals to achieve optimal health, and live life to its fullest potential.
The information provided in these materials is only for educational purposes. It is not intended to substitute any advice from your physician or health care professional. This information should not be used to diagnose or treat any health problems, nor should it be used to replace any prescribed medication or other treatment. Consult with your physician before you begin any nutritional supplement regiment and do not stop taking any prescribed medication without your physician's advice. Copyright 2014 Steven Masley, MD. All rights reserved.
This course is discounted in most KnoWEwell member plans. Learn more in the Education Center FAQs here.