We All Have A Part To Play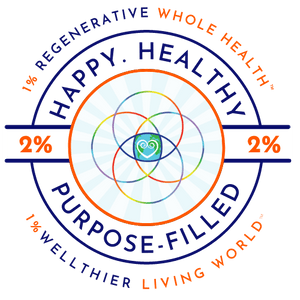 The KnoWEwell Collaborative
A Regenerative Whole Health global movement inspiring businesses, nonprofits, professional organizations, colleges and universities, and the practitioners and professionals they have helped educate to work together to transform healthcare.
Our programs amplify the impact of our network so we can help individuals prevent harm and address chronic disease to ensure the thriving regenerative future of humanity and our planet.
Together we inspire and empower a WELLthier Living World –
Happy. Healthy. Abundant. Purpose-Filled.
OUR MODELHow KnoWEwell contributes and amplifies our impact, and you can join too. 
KnoWEwell Giving Programs:
KnoWEwell donates 1% of net sales to mission-aligned nonprofits and provides in-kind services to help them grow their mission and educational programs for practitioners and consumers. 
KnoWEwell takes responsibility and gives back to our planet as a member of the 1% For The Planet network.
KnoWEwell donates 1% of net sales to the nonprofit Regenerative Whole Health Fund to help cover the out-of-pocket costs of practitioners in our network. Patients create campaigns and enter the KnoWEwell practitioner(s) they are seeking to fund services; they raise funds and KnoWEwell issues grants to help supplement out-of-pocket costs. 
KnoWEwell donates 2 for 1 membership to individuals and U.S. Veterans in need. 
Collaborative Membership
Here's how it works:
Join: Submit your Collaborative application to become a trusted organization in our network
Commit to:

Share about KnoWEwell, our Collaborative Partnership benefits with your constituents
Include the KnoWEwell Collaborative Logo on the footer of your website to spread our good deeds
KnoWEwell will:
Include your organization in KnoWEwell's 5 Pillars of Giving program 
Allocate a share of KnoWEwell's 1% of net sales donations to your organization (nonprofits only)
Recognize your organization as a KnoWEwell Collaborative Partner with promotion opportunities, which may include but are not limited to:

KnoWEwell.com home webpage 
KnoWEwell Collaborative Partners webpage 
Recognize your organization's profile in the community 
Newsletter, email, webcast, and events

Provide your organization with in-kind services, which may include but are not limited to:

Full-page Organizational Profile and Full-page Project Profile in the KnoWEwell community 
Provide you and your constituents with complementary RWH Individual Basic Benefit Memberships
Directory Listings: Events, Webinars, and Opportunities (jobs, mentorships, internships)
Provide a 10% discount on Practitioner memberships for your constituents

Include your practitioners as part of KnoWEwell's nonprofit Regenerative Whole Health Fund 
Donate 10% of net purchased membership upgrades from your constituents back to your organization
Provide you with the right to use our logo on your website
Provide your organization with discounted pricing on KnoWEwell Membership and Marketing Platform Solution Services