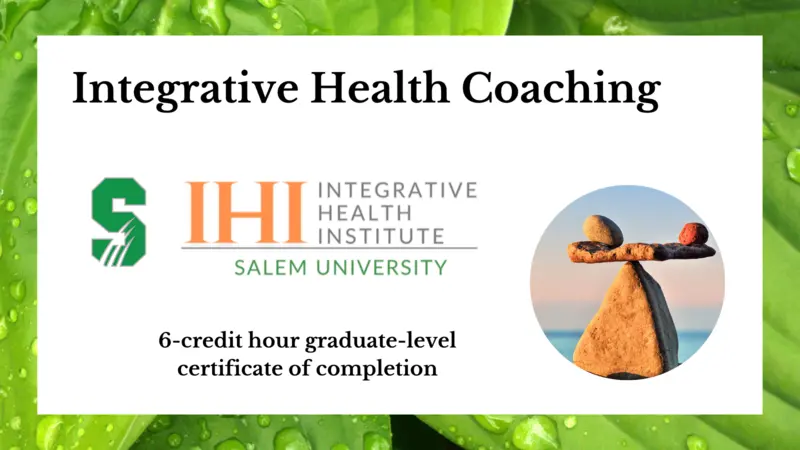 Integrative Health Coaching

Receive a special 10% tuition savings when you apply by December 31, 2022.
Find the discount code here. To enroll with the 10% discount, email the admissions team at Salem University and mention the discount code.
Continuous enrollment with monthly cohorts.
The Integrative Health Coaching (IHC) program from the Integrative Health Institute at Salem University is a board-certified, 16-week, 6-credit graduate-level course.
Salem University – Integrated Health Coaching is an Approved Health and Wellness Coach Training & Education Program by the National Board for Health and Wellness Coaching (NBHWC). Graduates of this program are eligible to apply for the HWC Certifying Examination to become a National Board Certified Health & Wellness Coach (NBC-HWC). 
All attendees need a Bachelor's degree to enroll in the course. The IHC program provides basic competency in core coaching skills for working with a diverse set of clients or patients, with a specific focus on integrative health approaches. The course will foster self-awareness and self-discovery through exploration of mindfulness and personal growth to create an integrative approach to wellness. IHC will also instill knowledge of healthy lifestyle factors and steps for improving wellness. A key objective of the program is to facilitate client self-awareness and coaching for behavior modification strategies through the application of wellness assessment tools and motivational skills. The program is designed to serve and educate professionals interested in coaching others to optimal health and wellness. Students will develop the skills necessary to build the coaching relationship from start to finish.
10% discount available to: KnoWEwell members. Discount applies towards any class of the Integrative Health Coaching up to and including Jan. 3, 2023 cohort. 
Not yet a KnoWEwell member? Click below to get started for FREE!