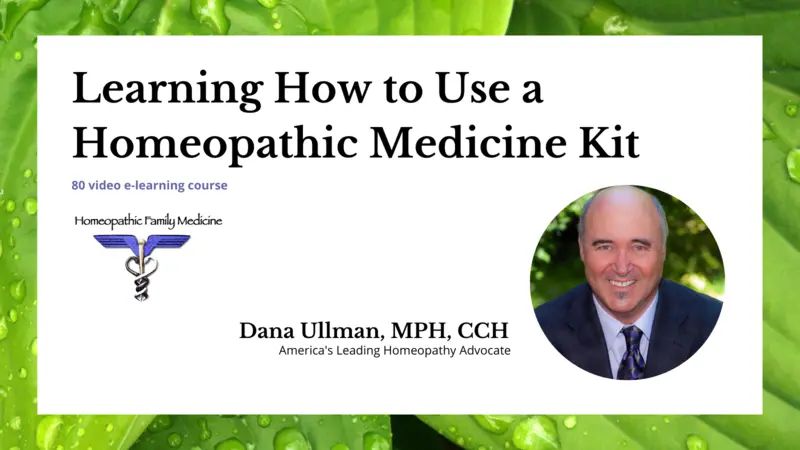 Learning How to Use a Homeopathic Medicine Kit

Homeopathic medicine is a 200-year old system of natural medicine that is used throughout the world by hundreds of thousands of physicians and tens of millions of patients. Homeopathy provides a natural method to treat yourself and your family for many common non-life-threatening ailments, honoring Hippocrates' "First, do no harm" dictum. By taking this e-course, you will learn to use 50-100 homeopathic medicines for many health problems.
This e-course combines a collection of 80 short videos (averaging 15 minutes each), plus a 500+ page e-book ("Evidence-Based Homeopathic Family Medicine"), and a PowerPoint presentation (of 700 slides) that provides summary information on each lecture. The e-book mentioned above describes the homeopathic treatment of over 100 ailments, along with reference to and description of over 300 scientific studies published in peer-review medical journals. 
You will be taught how to treat many common health issues in your family and friends, whether it be for various first aid ailments of accidents and injuries, as well as various "2nd aid" conditions, that is, various acute ailments ranging from:
colds and coughs to fevers
cases of flu
ear infections and throat infections
menstrual cramps and bladder infections
allergies and headaches
pediatric ailments
women's health issues and
so many more
This e-learning course is directed to mothers and fathers, as well as anyone interested in learning to use homeopathic medicines for common ailments, and it is directed to health and medical professionals who may want to incorporate these natural medicines into their medicine kit.
At present, 95% of French general physicians, pediatricians, and dermatologists incorporate homeopathic medicines into their medical practices, and by taking this e-learning course, you too will learn to use these natural medicines.

About Dana Ullman, MPH, CCH
Dana Ullman, MPH, CCH, is one of America's leading advocates for homeopathy. He has authored 10 books, including The Homeopathic Revolution: Why Famous People and Cultural Heroes Choose Homeopathy, Homeopathy A-Z, Homeopathic Medicines for Children and Infants, Discovering Homeopathy, and (the best-selling) Everybody's Guide to Homeopathic Medicines (with Stephen Cummings, MD). Dana's famous e-book is a continually growing resource to 300+ clinical studies published in peer-review medical journals testing homeopathic medicines. Dana has been certified in classical homeopathy by the leading organization in the U.S. for professional homeopaths. He is the founder of Homeopathic Educational Services, America's leading resource center for homeopathic books, tapes, medicines, software, and correspondence courses. Homeopathic Educational Services has co-published over 35 books on homeopathy with North Atlantic Books.
DISCLAIMER
The information provided in this e-course is to inform people about how homeopaths use homeopathic medicines to treat people with various ailments that have been diagnosed by licensed health and/or medical professionals. All materials in this e-course are for informational and educational purposes only and do not constitute diagnosis, treatment, cure or prevention for any physical or mental illness. Nothing in this e-course is intended to add to and not substitute for the medical advice of physicians or psychologists. Each person is responsible for his/her own medical and healthcare choices. Never disregard or delay seeking professional medical and psychological advice or treatment because of something you have read or seen in any book, article, website, blog, or video. The author makes no warranties of any kind in this e-course, and assumes no liability for any loss or damage arising out of your use of the information in this educational material.