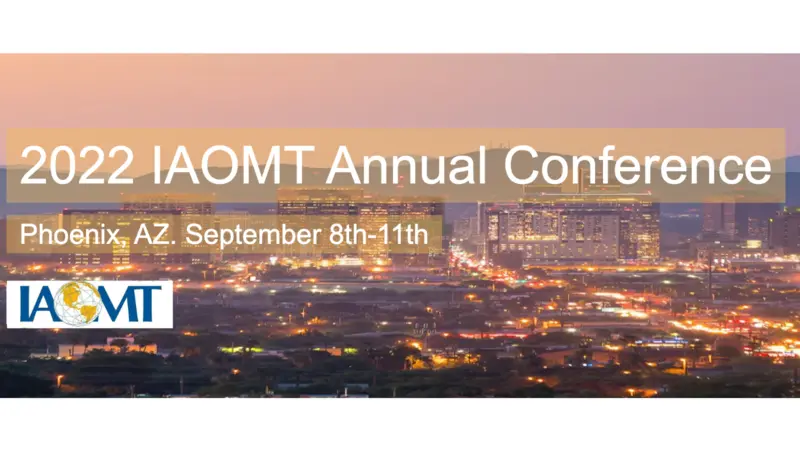 2022 IAOMT Annual Conference

IAOMT conferences offer participants the opportunity to network with other professionals, earn CE credits, discuss research relevant to practices, participate in a scientific symposium, and more.  Our conferences typically bring together 375-425 dentists, physicians, medical research scientists, registered dental hygienists, certified dental assistants, and other various dental/medical professionals.
The IAOMT hosts two conferences each year: a Spring Conference in March and an Annual Conference in September.  At each conference, we offer a Scientific Symposium on Friday and Saturday (included in registration fee) and an Introduction to Biological Dentistry Course on Thursday (for an additional fee).  CE credits are offered to conference attendees. Note also that the IAOMT offers a Student Scholarship Program for IAOMT Conference Attendance to bring interested students to one of our conferences, where they can acquire newfound knowledge about biological dentistry.
Arizona Biltmore, A Waldorf Resort 2400 E. Missouri Ave. Phoenix, AZ Reservation Line: 800-950-0086
The time zone for viewing will be concurrent to where the conference is being held. This meeting will be in Mountain Standard Time.
Thursday's Fundamentals of Biological Dentistry Course: September 8th Friday/Saturday Scientific Symposium: September 9-10th Sunday's Q&A Session: September 11th
Thursday Course Registration Fees: 1st Attendee $350
Additional Attendees $300
Friday/Saturday Symposium Registration Fees:
Members $1000 $1100 after 8/16
Non-Members $1100 $1200 after 8/16
Additional Attendee $600 Four or more $50 off each registration fee