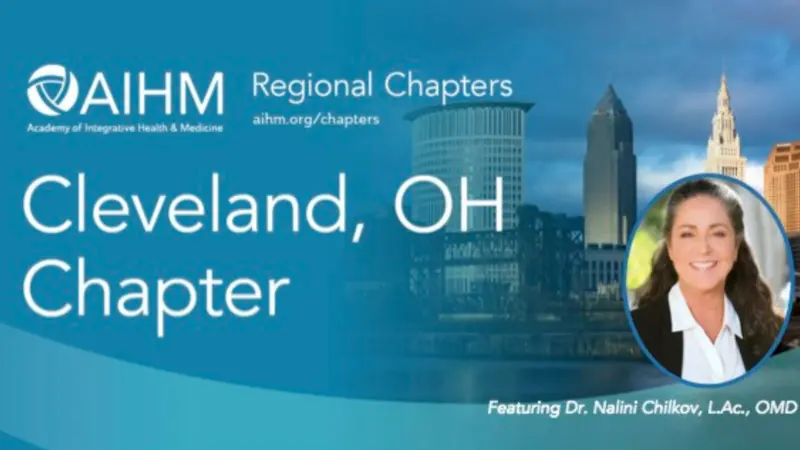 AIHM Cleveland Chapter Event – Resolving Cancer-Related Fatigue

RSVP Required.
Description of Event:
With continued advances in disease-free survival after cancer treatment, the number of survivors continues to rise. In the U.S. alone, there are currently more than 15 million, with projections for 19 million by 2024 and 26 million by 2040. Fully 100 percent of cancer patients complain of fatigue during treatment, and as many as 48 percent of adult cancer survivors experience persistent fatigue up to 10 years or more after the treatment phase. The fatigue may be severe and more disruptive than chronic pain, and not resolve with tumor control, treatment cessation, or rest.  Resolution requires a highly individualized, health-focused approach that can identify functional factors and select appropriate interventions. In this talk, Dr. Chilkov will discuss the risk factors and mechanisms contributing to chronic cancer-related fatigue, explain how to skillfully screen, assess, and manage the condition, and identify nutraceuticals, phytochemicals, functional foods, lifestyle interventions, and other integrative measures for preventing damage and restoring normal function in both current patients and survivors with long-term fatigue. Dietary, nutraceutical, phytochemical, and botanical interventions will be reviewed in detail. To achieve durable long-term outcomes and improved quality of life, the root causes must be identified, and function and microenvironment restored. Chronic cancer-related fatigue is linked to the adverse effects of chemotherapy, radiotherapy, hormonal therapies, and biotherapies, as well as cancer biology itself. Increases in inflammatory cytokines and reactive oxygen species are common denominators. Other contributors to ongoing cancer-related fatigue include bone marrow suppression, hepatotoxicity, neurotoxicity, microbiome disruption, endocrine and circadian disruptions, and cachexia and sarcopenia, as well as digestive compromise and poor nutritional status.
About the Speaker:
Dr. Nalini Chilkov, L.Ac., OMD, is founder of the American Institute of Integrative Oncology Research and Education (aiiore.com) and is recognized internationally as an authority and pioneer in integrative cancer care, cancer prevention, and immune enhancement. She is the creator of the OutSmart Cancer System® and author of a best-selling distillation of that system, 32 Ways To Outsmart Cancer. Dr. Chilkov brings more than 35 years of experience with thousands of cancer patients to her passion for training frontline clinicians from around the world to become skilled and confident in serving the health needs of patients whose lives have been touched by cancer. She has lectured at the UCLA and UC Irvine schools of medicine and at medical institutes worldwide, and frequently serves as an expert resource for the media. In her private practice in Santa Monica, California, she works to surpass statistical expectations for her patients by combining the best of modern biomedicine, Oriental medicine, and wellness medicine, in a fully integrative, individualized, and collaborative model of oncology care.
+ Add to Google Calendar+ Add to iCalendar+ Export .ics file
DETAILS
Date: May 18

Time: 7:00 pm - 8:45 pm EDT