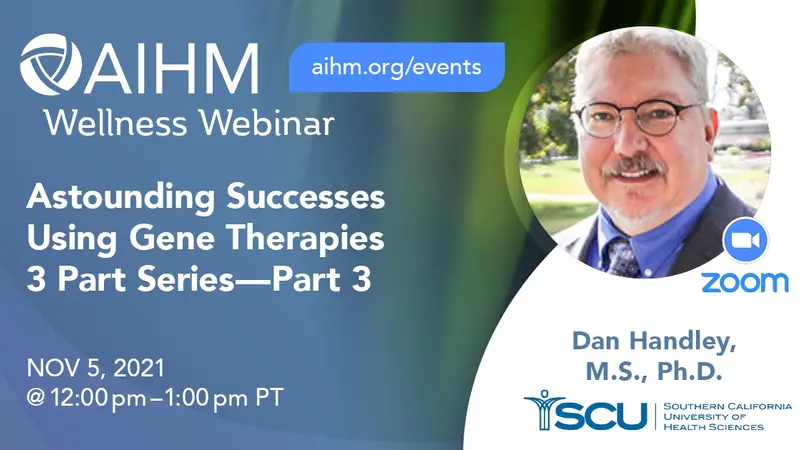 AIHM Wellness Webinar ~ Dan Handley, MS, PhD | Astounding Successes Using Gene Therapies – 3 part series – Part 3

Long considered essentially science fiction, the therapeutic alteration of genes has now been proven to be a practical and viable solution to treating serious inherited health conditions. There has been preliminary success using gene therapies to treat or cure such diseases as sickle cell anemia, cystic fibrosis, X-linked severe combined immunodeficiency, beta-thalassemia, some blood cancers, and many more conditions once thought intractable. Many of these therapies are currently in clinical trials for approval for widespread use. In this session, you will learn the basic strategies for performing gene therapy, the new technologies that enable them, how the procedures are performed, remaining limitations and challenges, and examples of successful use of some of these procedures. It is useful for the healthcare practitioner to know what therapies currently show the greatest promise, how these therapies work, and what new developments now on the horizon to expect to become more widely available.
SPEAKER:
Dan Handley, MS, PhD: Dr. Handley serves as Professor, Director of the Clinical and Translational Genome Research Institute (CTGRI), and Director of the Master of Science in Human Genetics and Genomics degree program at the Southern California University of Health Sciences in Whittier, California. He also serves on the Board of Directors of Predictive Oncology, Inc. (NASDAQ: POAI). Previously, he held a courtesy faculty appointment in the Department of Biological Sciences at Florida Gulf Coast University. He has served as Chief Scientific Officer for Advanced Healthcare Technology Solutions, Inc., as a senior researcher at the Procter & Gamble Co., a senior administrator and laboratory manager at the David Geffen School of Medicine at UCLA, and as a founding technology innovator for the National Genetics Institute in Los Angeles, California. He holds a B.A. in Biophysics from Johns Hopkins University, an M.S. in Logic and Computation from Carnegie Mellon University, a Ph.D. in Human Genetics from the University of Pittsburgh, and did his post-doctoral training at Magee-Women's Research Institute in advanced genomic technologies applied to fetal and maternal health.
The Academy of Integrative Health & Medicine is dedicated to engaging a global community of health professionals and health seekers in innovative education, leadership, interprofessional collaboration, research and advocacy that embraces all global healing traditions, to promote the creation of health and the delivery of evidence-informed comprehensive, affordable, sustainable person-centered care.