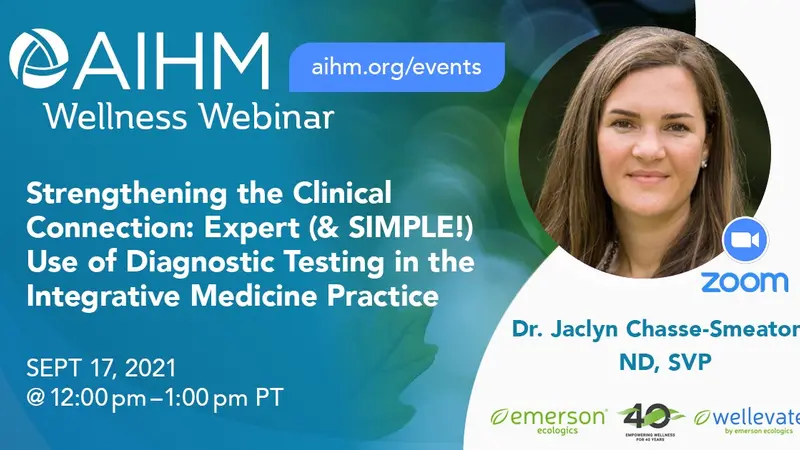 AIHM Wellness Webinar | Emerson Ecologics | Strengthening the Clinical Connection: Expert (& SIMPLE!) Use of Diagnostic Testing in the Integrative Medicine Practice

Sponsored by: Emerson Ecologics - Introducing Wellevate® Labs!
You are aware of how diagnostic laboratory testing plays a critical role in disease diagnosis, but even experienced physicians rarely leverage labs to the extent possible when it comes to the functional evaluation of patients. Learn how to leverage diagnostic lab testing to drive better-connected care with your patients and take away the how-tos to put this into practice.  
And be one of the first to see how you can put all of this into your practice with Wellevate's latest feature - Wellevate® Labs
Speaker, Dr. Jaclyn Chasse-Smeaton, ND - SVP, Medical Affairs for Emerson Ecologics
The Academy of Integrative Health & Medicine is dedicated to engaging a global community of health professionals and health seekers in innovative education, leadership, interprofessional collaboration, research and advocacy that embraces all global healing traditions, to promote the creation of health and the delivery of evidence-informed comprehensive, affordable, sustainable person-centered care.