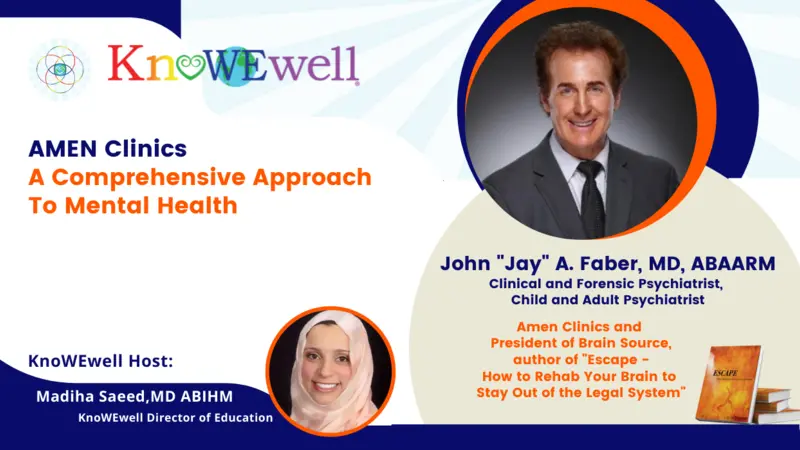 AMEN Clinics: A Comprehensive Approach to Mental Health

Amen Clinics, Inc. was established in 1989 by Daniel G. Amen, MD, who is a psychiatrist, neuroscientist, brain imaging expert, and 12-time New York Times bestselling author.
Amen Clinics, Inc. is one of the world leaders in applying brain imaging science to help people who struggle with:
Emotional issues such as anxiety, depression, and bipolar disorder.

Behavioral challenges like addictions, weight control, or anger-management issues.

Cognitive problems such as memory issues, Alzheimer's Disease, and dementia.

Learning challenges like Attention Deficit Disorder (ADD), also called Attention Deficit Hyperactivity Disorder (ADHD).
The Amen Clinics Approach to mental health has shown that psychiatric conditions are not single or simple disorders. They all have multiple types, so the same treatment plan won't work for everybody, and it could make your symptoms worse. The Amen Clinics Method is different. In this educational program, Dr. Faber will explain how their database, with over 180,000 brain scans, helps more successfully identify various types of ADD, anxiety, depression, and many other mental health conditions, so you get the answers you've been looking for.
KnoWEwell® 
KnoWEwell is the one destination for today's trusted Regenerative Whole Health™ knowledge, resources and community. The global community and marketplace ecosystem collaborating to inspire and empower individuals to achieve WELLthier Living™.
Join the movement as we share knowledge and healing success stories, provide access to evidence-based resources, create meaningful connections and help today's providers, mission-aligned nonprofits and businesses opportunities prosper. 
We are transforming the healthcare we know.