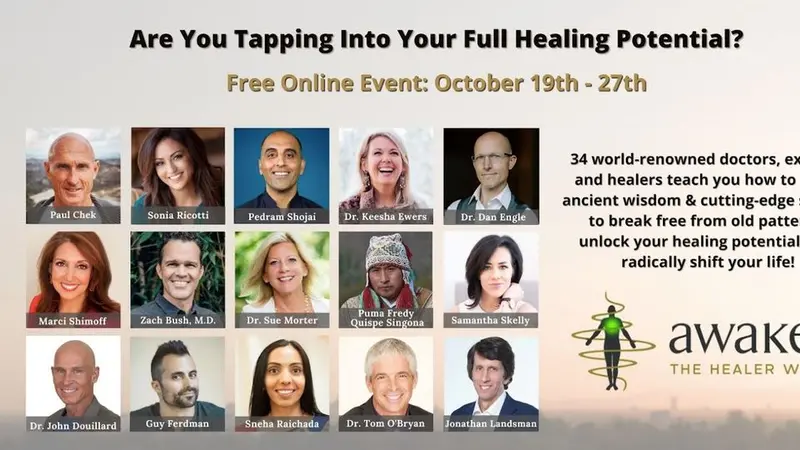 Awaken the Healer Within Summit

Are You Tapping Into Your Full Healing Potential?
Join over 172,000 others who are ready to get UNSTUCK & ditch their symptoms for good!
34 Global Leaders In Health & Transformation Reveal What Actually Keeps People STUCK With Chronic Illness & How to Finally Break Free of Your Symptoms...Forever!
The Missing Piece...
Approximately 40% of the US population will be diagnosed with cancer at some point during their lifetimes. And nearly 88% of US citizens over 65 years of age are battling at least one chronic health condition.
But guess what? Nearly all of these conditions are preventable…that's the good news. And now more than ever, it's time to make health a priority.
You weren't born into this world to be saddled with chronic pain, debilitating fatigue, and frustrating symptoms that require so much of your money, time, and energy. 
Perhaps you've made changes to your diet, exercise regularly, incorporate supplements, reduce stress, and even tinker with high-tech healing devices.
So why is it so hard to heal? 
You're missing a critical piece to the puzzle that, once in place, will allow you to move beyond your symptoms for good! In Awaken The Healer Within, you'll discover what's preventing you from breaking through and finally experiencing lasting health and well being. 
Join us as world-renowned doctors, experts, and healers teach you how to apply ancient wisdom and cutting-edge science to break free from old patterns, unlock your healing potential, and radically shift your life!
Awaken The Healer Within is for you if...
You believe that you have the ability to truly heal and eliminate symptoms for good.

You want to build a healthy, resilient, and robust immune system that can adapt to a changing environment.

Preventing conditions like cancer, Alzheimer's, heart disease, arthritis, and autoimmune conditions are important to you.

You are just starting on your healing journey and don't know where to begin.

You have been on a healing path for a while and want to explore some of the most profound self-applied healing techniques on the planet.

You want to get to the source of what's causing your symptoms and finally resolve them.

You want to discover how to apply a diet and lifestyle approach that fits your unique constitution and circumstance.

You want to go beyond theory and information and actually learn healing strategies you can implement today.

It is important to you to become the best version of yourself so you can share your gifts and support others in need.
Now is the time!
There has never been a better time to invest in yourself. When you implement the profound methods and cutting-edge techniques revealed in this summit, you'll be able to cut through everything that has been holding you back so you can access greater depths of your being and create a life of health, wealth, abundance, and ease. 
Health doesn't have to be so hard. And this is your invitation to repair old wounds, release stagnant energy, let go of pain, and say goodbye to your symptoms. 
Join hundreds of thousands who say YES to creating an entirely new reality!
Epidemic Answers
Epidemic Answers offers a starting point for parents looking to understand why their children are chronically ill and what can be done to recover them. They provide parent-oriented educational resources and networking tools that empower individuals to confidently embrace the healing journey for themselves and their families. Epidemic Answers is made up of parents, clinicians, researchers, authors and wellness experts, who want the world to know that recovery is possible from chronic conditions like autism, ADHD, allergies, asthma, autoimmune, eczema, mood disorders and more.