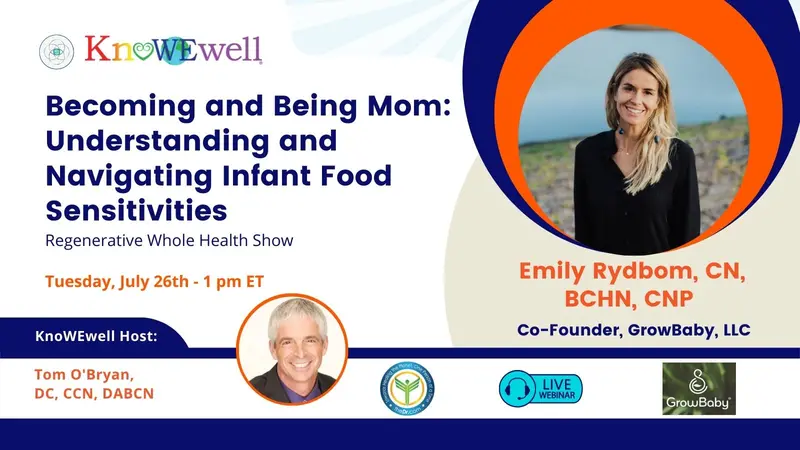 Becoming and Being Mom: Understanding and Navigating Infant Food Sensitivities

Emily Rydbom, owner and CEO of GrowBaby, empowers women during the preconception, pregnancy, and postnatal time-period, and teaches families about healthy nutrition and lifestyle balance from six months through five years and beyond.
Practicing the Functional Nutrition approach to pregnancy since 2010, she is a published researcher and an international lecturer on practical implementation to improve transgenerational health. She is also board president of GrowBaby Life Project (501c3)—research in pursuit of health and resilience for a lifetime.
Emily Rydbom joins KnoWEwell's Chief Health Officer, Dr. Tom O'Bryan of theDr.com to talk about understanding and addressing the relationship between a mom and her infant's food sensitivities, and the impact on infant growth and the developing immune system.
 KnoWEwell.com
KnoWEwell operates the private and secure Regenerative Whole Health Hub – the all-in-one, global, trusted online health and well-being solution – bridging the knowledge, access, and insurance gaps. Centralizing knowledge, education, and evidence-based resources. Connecting the ecosystem to collaboratively help individuals prevent harm, address the root causes of disease, and achieve WELLthier Living™!
Did you know you can curate your own learning library?
Among our plethora of membership benefits, you can create your own library! With a KnoWEwell Pathfinder membership, you get access to KnoWEwell's Education Center with 50+ (and growing) educational programs from today's top thought leaders and experts. Learn how to prevent and address the root causes of chronic disease. Keep track of the programs you have already viewed and watch them anytime you or your family need help. Join today, apply code BEWELL20 and receive 20% off your Pathfinder membership (or any other membership plan). That's just $8 a month to get started on your journey to achieve WELLthier Living – Happy. Healthy. Abundant. Purpose-Filled!