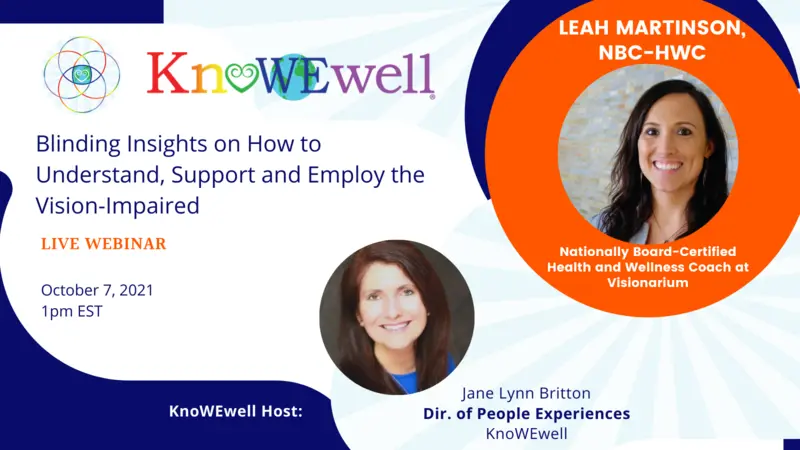 Blinding Insights on How to Understand, Support and Employ the Vision-Impaired

Leah Martinson, is a Nationally Board-Certified Health and Wellness Coach, NBCHWC, and founder of Visionairium Healing, LLC . Using her advanced training, professional experience and her own struggles with blindness, she skillfully helps others address chronic stress, hidden illnesses/disabilities, and other obstacles in order to live a joyful, vibrant life. 
 In this webinar, you will learn: 
Several stereotypes that the blind and vision impaired community face 

How stereotypes can be detrimental to your health  

How to identify and change your own limiting beliefs around what it means to be blind 

The ways in which technology enhances the lives of people living with blindness 

Resources available to employers for hiring vision impaired employees 
KnoWEwell, P.B.C.
KnoWEwell is the global Regenerative Whole Health (RWH) benefits and services company. An award-winning, woman majority-owned, B Certified pending corporation and 1% for the Planet member.
We operate KnoWEwell.com, the one online destination for today's trusted Regenerative Whole Health knowledge, resources, and ecosystem collaborating to inspire and empower individuals to prevent harm, address chronic diseases and achieve WELLthier Living. 
We are on a mission to transform healthcare, as we share knowledge and healing success stories, provide access to screened, verified and background-checked RWH practitioners, as well as expert-led and peer-reviewed content, evidence-based resources, create meaningful connections, and help today's providers, mission-aligned nonprofits, and businesses prosper.