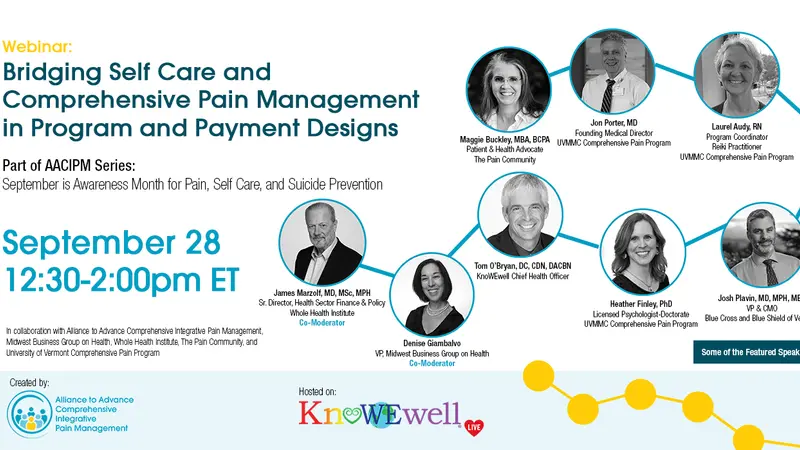 Bridging Self Care and Comprehensive Pain Management in Program and Payment Designs: Part of AACIPM Series: September is Awareness Month for Pain and Self Care

September is Awareness Month for Pain, Self Care, and Suicide Prevention.
Chronic pain affects one in five people and has a substantial impact on a person's ability to function at home and at work. Untreated chronic pain causes disturbances to sleep, cognition, appetite, mood, social activities, hobbies, and is associated with an increased prevalence of depression, anxiety, and suicide.  Providing those who experience chronic pain with skills to optimize agency and competence in self-care is a crucial component of a whole person, comprehensive, integrative approach to pain management. Thus, it is imperative that payers, purchasers, and providers of healthcare more fully understand self-care strategies for pain management and how to integrate self-care into existing models of care, payment designs and daily life.
Yet this approach to care is widely misunderstood by clinicians and payers, including employer-sponsored health plans. Integrative strategies are part of a broader integrated approach to healthcare and are already being utilized in a number of settings, including employee assistance programs, worker's compensation, wellness benefits, behavioral health, and substance use disorder .  Given the success of well-coordinated comprehensive integrative pain management programs, these models should be extended into a broader set of mainstream pain management programs and plan designs. This webinar will explore one example of a successful model of comprehensive integrative pain management program that is currently underway through a partnership with Blue Cross and Blue Shield of Vermont and University of Vermont Medical Center.
On Tuesday, September 28th, join us for a panel discussion with multi-disciplinary experts on the connection between Self Care, and Comprehensive Pain Management with a focus on Programs and Payment Designs.
Co-hosted by:
James Marzolf
MD, MSc, MPH
Sr Director, Health Sector Finance & Policy
Whole Health Institute
Denise Giambalvo
VP
Midwest Business Group on Health
Joined by Featured Experts:
Maggie Buckley, MBA, BCPA
Patient & Health Advocate
The Pain Community
Jon Porter, MD
Founding Medical Director
UVMMC Comprehensive Pain Program
Laurel Audy, RN
Program Coordinator
Reiki Practitioner
UVMMC Comprehensive Pain Program
Tom O'Bryan, DC, CDN, DACBN
TheDr.com Founder
KnoWEwell Chief Health Officer
Josh Plavin, MD, MPH, MBA
VP & CMO
Blue Cross and Blue Shield of Vermont
Heather Finley, PhD
Licensed Psychologist-Doctorate
UVMMC Comprehensive Pain Program
Alliance to Advance Comprehensive Integrative Pain Management (AACIPM)
The Alliance to Advance Comprehensive Integrative Pain Management (AACIPM) is the first-of-its-kind multi-stakeholder collaborative, comprised of people living with pain, public and private insurers, government agencies, patient and caregiver advocates, researchers, purchasers of healthcare, policy experts, and the spectrum of healthcare providers involved in the delivery of comprehensive integrative pain management. AACIPM is an initiative, not an organization, and is built by the strength of engagement with its participating stakeholders.
KnoWEwell, P.B.C.
KnoWEwell is the global Regenerative Whole Health (RWH) benefits and services company. An award-winning, woman majority-owned, B Certified pending corporation and 1% for the Planet member.
We operate KnoWEwell.com, the one online destination for today's trusted Regenerative Whole Health knowledge, resources, and ecosystem collaborating to inspire and empower individuals to prevent harm, address chronic diseases and achieve WELLthier Living. 
We are on a mission to transform healthcare, as we share knowledge and healing success stories, provide access to screened, verified and background-checked RWH practitioners, as well as expert-led and peer-reviewed content, evidence-based resources, create meaningful connections, and help today's providers, mission-aligned nonprofits, and businesses prosper.