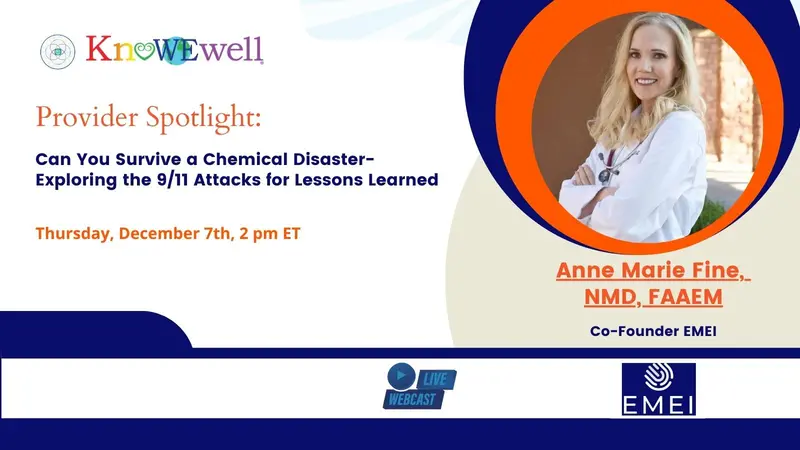 Can You Survive a Chemical Disaster- Exploring the 9/11 Attacks for Lessons Learned
Be among the first to learn from the leading global expert in environmental medicine, Dr. Anne Marie Fine, about protecting you and your family from a chemical disaster. The attacks on 9/11 resulted in more casualties from the chemical exposures, than from the attacks themselves.  The U.S. government has quietly paid out 12 billion dollars to date to compensate the people and families of those who died of cancer or other illnesses from the environmental exposures, and the amounts continue to grow due to the long latency period of cancer.
The people of East Palestine, Ohio are currently experiencing the pain and uncertainty of living in a chemical disaster area. The reality is that these disasters happen on the order of every other day according to the Coalition to Prevent Chemical Disasters.
These chemicals can have short-term and long-term effects on your health and may persist for generations in your unborn children and grandchildren. 
This course will empower you with the tools you need to protect you and your family from becoming a victim of a chemical disaster.
The top lessons from historical chemical disasters like 9/11, Love Canal, East Palestine, and how we can take that information and use it.
The crucial first step you must take is to identify chemical toxicants in your home and secure evidence for a potential lawsuit.
How to properly seal your home to keep out dangerous chemicals.
How to identify harmful contaminants in your water and how to choose an effective water filter.
The easiest and most effective solution to protect yourself from harmful chemicals in the air.
A nutritional approach to supporting detoxification pathways to minimize the damage of these harmful exposures.
KnoWEwell.com 
KnoWEwell operates the private and secure Regenerative Whole Health ® Hub – the all-in-one, global, trusted online health and well-being solution – bridging the knowledge, access, and insurance gaps. Centralizing knowledge, education, and evidence-based resources. Connecting the ecosystem to collaboratively help individuals prevent harm, address the root causes of disease, and achieve WELLthier Living®!
Did you know you can curate your own learning library? 
Among our plethora of membership benefits, you can create your own library! With a KnoWEwell membership, you get access to KnoWEwell's Education Center with educational programs from today's top thought leaders and experts. Learn how to prevent and address the root causes of chronic disease. Keep track of the programs you have already viewed and watch them anytime you or your family need help. 
Join today, get started on your journey to achieve WELLthier Living – Happy. Healthy. Abundant. Purpose-filled!