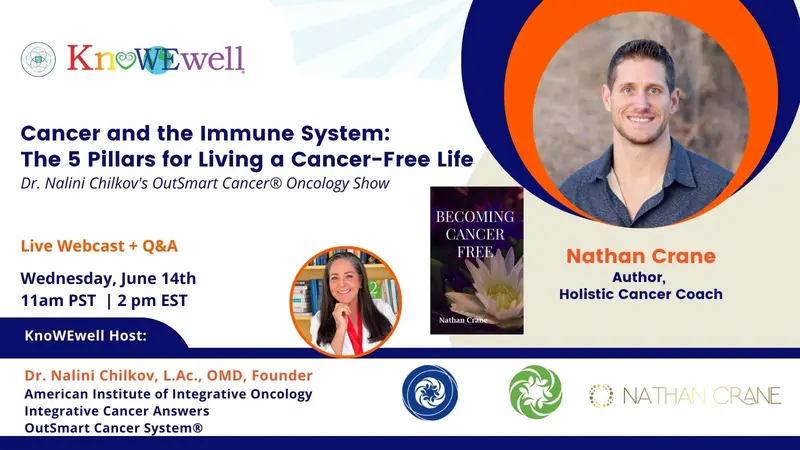 Cancer and the Immune System: The 5 Pillars for Living a Cancer-Free Life

Nathan Crane, award-winning author, natural health researcher, and holistic cancer coach joins Dr. Nalini Chilkov's OutSmart Cancer Oncology Show to discuss the delicate relationship between the immune system and cancer.
In this program you will learn:
How to work with your body
How to Enhance Your Immune System Naturally
The little-known causes of cancer, which are easily avoidable.
The best cancer-fighting diet that works for preventing and reversing cancer.
The power of your mind and the scientific validation of how your thoughts can cause disease or reverse disease.
Integrative Cancer Answers
Integrative Cancer Answers is the fruit of Dr. Nalini Chilkov's thirty years of experience transforming the cancer journey for thousands of patients worldwide. Her OutSmart Cancer System® is recognized as the most comprehensive, science based, safe and effective doctor-designed program available today.  
Dr. Nalini Chilkov has been named one of the Top 10 Online Influencers Making a Difference in Breast Cancer. She is the best selling author of 32 Ways to OutSmart Cancer: How to Create A Body Where Cancer Cannot Thrive.
KnoWEwell.com
KnoWEwell operates the private and secure Regenerative Whole Health Hub – the all-in-one, global, trusted online health and well-being solution – bridging the knowledge, access, and insurance gaps. Centralizing knowledge, education, and evidence-based resources. Connecting the ecosystem to collaboratively help individuals prevent harm, address the root causes of disease, and achieve WELLthier Living™!
Did you know you can curate your own learning library?
Among our plethora of membership benefits, you can create your own library! With a KnoWEwell Pathfinder membership, you get access to KnoWEwell's Education Center with 50+ (and growing) educational programs from today's top thought leaders and experts. Learn how to prevent and address the root causes of chronic disease. Keep track of the programs you have already viewed and watch them anytime you or your family need help. Join today, apply code BEWELL20 and receive 20% off your Pathfinder membership (or any other membership plan). That's just $8 a month to get started on your journey to achieve WELLthier Living – Happy. Healthy. Abundant. Purpose-Filled!