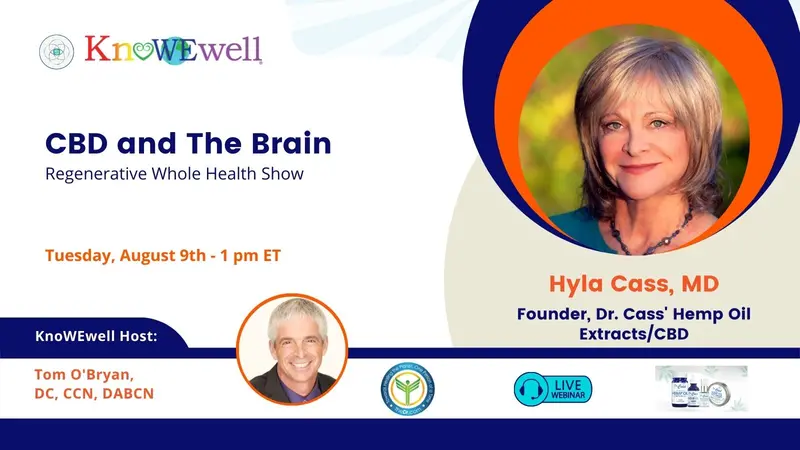 CBD and the Brain

Cannabidiol is a popular natural remedy used for many common ailments. Better known as CBD, it is one of more than 100 chemical compounds called cannabinoids that are found in the marijuana and non-psychoactive hemp plants; it is the part of the plant that will not produce a "high".
This quality makes CBD an appealing option for those who are looking for relief from pain and other symptoms without the mind-altering effects of cannabis.
Hyla Cass, MD, founder of Dr. Cass' Hemp Oil Extracts, joins KnoWEwell's Chief Health Officer, Dr. Tom O'Bryan, to demystify how CBD works and how it can be used to ease symptoms of many health conditions.
In this program you will learn:
What is CBD

What is the Endocannabinoid System

The difference between CBD vs THC

How CBD can be used for mental health

How to use CBD safely 

Effective dosing of CBD
KnoWEwell.com
KnoWEwell operates the private and secure Regenerative Whole HealthTM Hub – the all-in-one, global, trusted online health and well-being solution – bridging the knowledge, access, and insurance gaps. Centralizing knowledge, education, and evidence-based resources. Connecting the ecosystem to collaboratively help individuals prevent harm, address the root causes of disease, and achieve WELLthier Living®!
Did you know you can curate your own learning library?
Among our plethora of membership benefits, you can create your own library! With a KnoWEwell Pathfinder membership, you get access to KnoWEwell's Education Center with 50+ (and growing) educational programs from today's top thought leaders and experts. Learn how to prevent and address the root causes of chronic disease. Keep track of the programs you have already viewed and watch them anytime you or your family need help. Join today, apply code BEWELL20 and receive 20% off your Pathfinder membership (or any other membership plan). That's just $8 a month to get started on your journey to achieve WELLthier Living – Happy. Healthy. Abundant. Purpose-Filled!