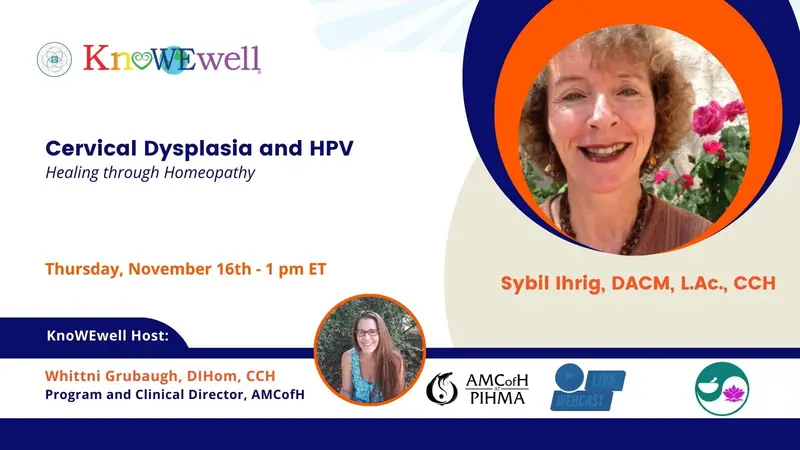 Cervical Dysplasia and HPV: Healing Through Homeopathy

Dr. Sybil Ihrig has focused on treating female related health challenges including menopause, menstrual difficulties, and cervical dysplasia and HPV (Human Papilloma Virus). In this talk, she will provide an overview of cervical dysplasia and HPV including use of homeopathy in a treatment plan.
Learning Objectives:
Understand the cervical dysplasia and HPV

Potential homeopathy treatments
KnoWEwell.com 
KnoWEwell operates the private and secure Regenerative Whole Health ® Hub – the all-in-one, global, trusted online health and well-being solution – bridging the knowledge, access, and insurance gaps. Centralizing knowledge, education, and evidence-based resources. Connecting the ecosystem to collaboratively help individuals prevent harm, address the root causes of disease, and achieve WELLthier Living®!
Did you know you can curate your own learning library? 
Among our plethora of membership benefits, you can create your own library! With a KnoWEwell membership, you get access to KnoWEwell's Education Center with educational programs from today's top thought leaders and experts. Learn how to prevent and address the root causes of chronic disease. Keep track of the programs you have already viewed and watch them anytime you or your family need help. 
Join today, get started on your journey to achieve WELLthier Living – Happy. Healthy. Abundant. Purpose-filled!