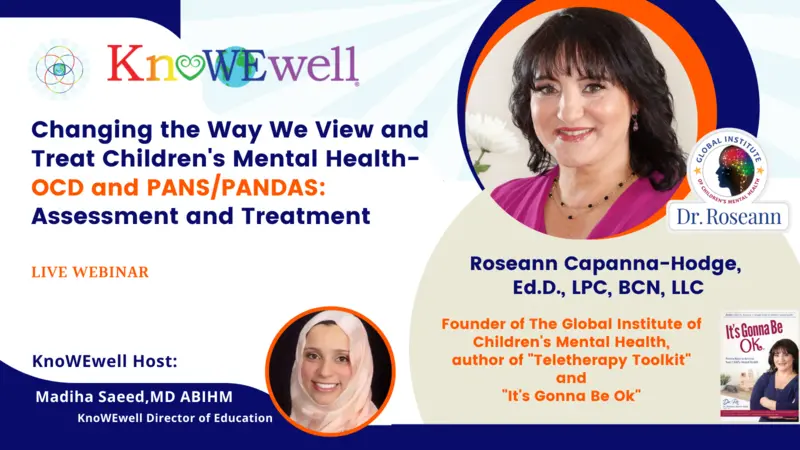 Changing the Way We View and Treat Children's Mental Health: OCD and PANS/PANDAS: Assessment and Treatment

Roseann Capanna-Hodge, Ed.D., LPC, BCN, LLC is a mental health trailblazer, founder of The Global Institute of Children's Mental Health and Dr. Roseann & Associates, who is, "Changing the way we view and treat children's mental health".  FORBES magazine called her, "A thought leader in children's mental health". Her work has helped thousands reverse the most challenging conditions, such as ADHD, anxiety, mood, autism, learning disability, Lyme, and PANS/PANDAS using PROVEN holistic therapies such as neurofeedback, biofeedback, and psychotherapy. She is the author of the first-ever book on teletherapy activities for child and adolescent therapists, "Teletherapy Toolkit™" and It's Gonna be OK!™ book and The Get Unstuck Program™, which are resources for parents to improve their child's symptoms. She is often featured on dozens of media outlets: Fox, CBS, NBC, PARENTS, and New York Times.
Dr. Rosanne joins KnoWEwell's Director of Education and founder of HolisticMomMD.com, Madiha Saeed, MD, ABIHM to share her expertise on how to change the way we view and treat children's mental health, specifically regarding OCD and PANS/PANDAS, and related assessment and treatment options.
Educational Program:
PANS/PANDAS/AE is on the rise, as one in 200 children have the disorder(s). PANS/PANDAS/AE are emerging health crises that have a far-reaching impact on the field of mental health. Infectious disease and toxins can cause neuropsychiatric and neurocognitive symptoms in children and adults that can be frightening. Getting a diagnosis, as it is often misdiagnosed as ODD, ADHD, OCD, anxiety, mood disorder, etc., and appropriate help from qualified providers is a major hurdle for most families. This presentation will take an in-depth look at how PANS/PANDAS/AE and OCD are diagnosed and treated. 
Learning Objectives Include:
What is PANS/PANDAS/AE?
What are neurocognitive and neuropsychiatric symptoms associated with PANS/PANDAS/AE?
What are the treatments for PANS/PANDAS/AE?
What is the difference between anxiety and OCD?
What should I do if my child has PANS/PANDAS/AE or OCD?
KnoWEwell, P.B.C.
KnoWEwell is the global Regenerative Whole Health (RWH) benefits and services company. An award-winning, woman majority-owned, B Certified pending corporation and 1% for the Planet member.
We operate KnoWEwell.com, the one online destination for today's trusted Regenerative Whole Health knowledge, resources, and ecosystem collaborating to inspire and empower individuals to prevent harm, address chronic diseases and achieve WELLthier Living. 
We are on a mission to transform healthcare, as we share knowledge and healing success stories, provide access to screened, verified and background-checked RWH practitioners, as well as expert-led and peer-reviewed content, evidence-based resources, create meaningful connections, and help today's providers, mission-aligned nonprofits, and businesses prosper.