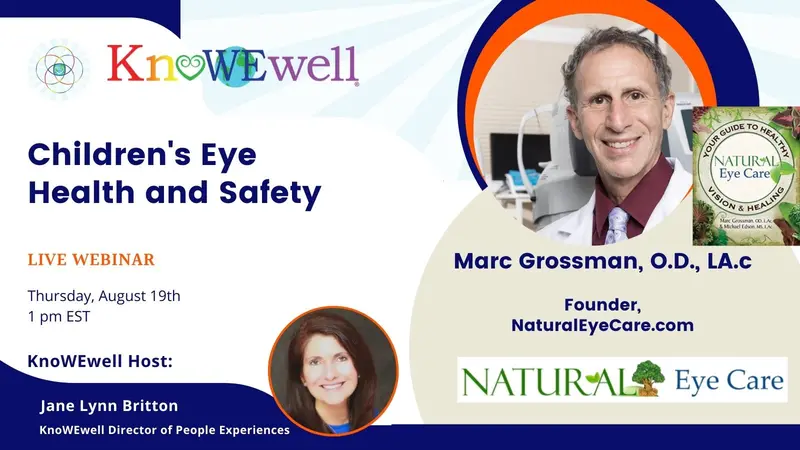 Children's Eye Health and Safety

As a child's eyesight develops, good nutrition, preventative eye care, and a healthy lifestyle play a key role. They can also help prevent vision and behavioral problems, even during the age of smartphones and increased computer usage. 
Join us as integrative eye care pioneer Marc Grossman, O.D., LA.c, Founder of NaturalEyeCare.com, author of "Natural Eye Care, Your Guide to Healthy Eyes and Healing" and podcast host discusses:
Vision concerns for children, from smartphones and computers to behavioral problems

 

Vision conditions that may affect our children

 

Techniques for good eye health 

 

Good nutrition for healthy eyes

 
KnoWEwell, P.B.C. 
KnoWEwell is the global Regenerative Whole Health (RWH) benefits and services company. An award-winning, woman majority-owned, B Certified pending corporation and 1% for the Planet member. 
We operate KnoWEwell.com, the one online destination for today's trusted Regenerative Whole Health knowledge, resources, and ecosystem collaborating to inspire and empower individuals to prevent harm, address chronic diseases and achieve WELLthier Living.  
We are on a mission to transform healthcare, as we share knowledge and healing success stories, provide access to screened, verified and background-checked RWH practitioners, as well as expert-led and peer-reviewed content, evidence-based resources, create meaningful connections, and help today's providers, mission-aligned nonprofits, and businesses prosper.