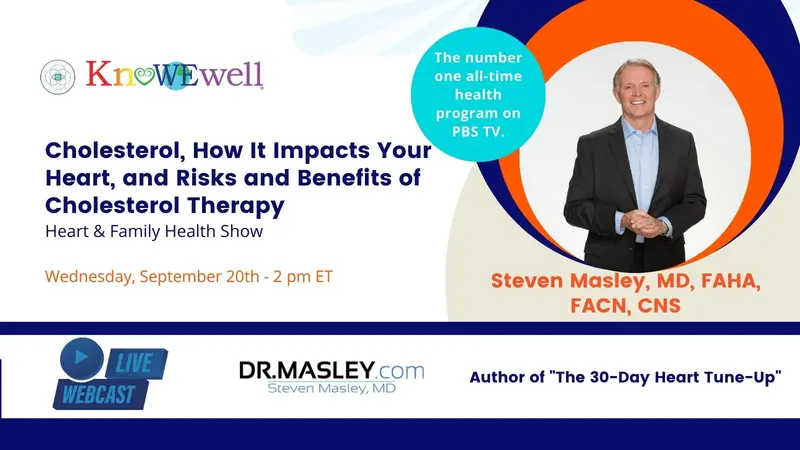 Cholesterol, How It Impacts Your Heart, and Risks and Benefits of Cholesterol Therapy: Heart and Family Health Show

Due to the intense drug company marketing, many people believe that cholesterol is the most important risk factor for heart disease. Dr. Steven Masley explains in this webcast that, while it is a factor, it is not the most important. Advanced cholesterol profiles are far more helpful than simply knowing your total cholesterol level.
There are several ways to improve cholesterol profiles without taking medications, although for some people, cholesterol drug therapy may have more benefit than risk. There are also several ways to minimize the risks associated with cholesterol drugs and cholesterol lowering supplements. This presentation will clarify how different forms of cholesterol will impact your heart, therapy options, and how to avoid treatment side effects.
Learning Objectives:
How does cholesterol impact your heart?
What are different options to lower cholesterol levels?
What are the side effects from cholesterol therapy and how can you minimize those risks?
KnoWEwell.com 
KnoWEwell operates the private and secure Regenerative Whole Health® Hub – the all-in-one, global, trusted online health and well-being solution – bridging the knowledge, access, and insurance gaps. Centralizing knowledge, education, and evidence-based resources. Connecting the ecosystem to collaboratively help individuals prevent harm, address the root causes of disease, and achieve WELLthier Living®! 
Did you know you can curate your own learning library? 
Among our plethora of membership benefits, you can create your own library! With a KnoWEwell Pathfinder membership, you get access to KnoWEwell's Education Center with 50+ (and growing) educational programs from today's top thought leaders and experts. Learn how to prevent and address the root causes of chronic disease. Keep track of the programs you have already viewed and watch them anytime you or your family need help. 
Join today, get started on your journey to achieve WELLthier Living – Happy. Healthy. Abundant. Purpose-filled!