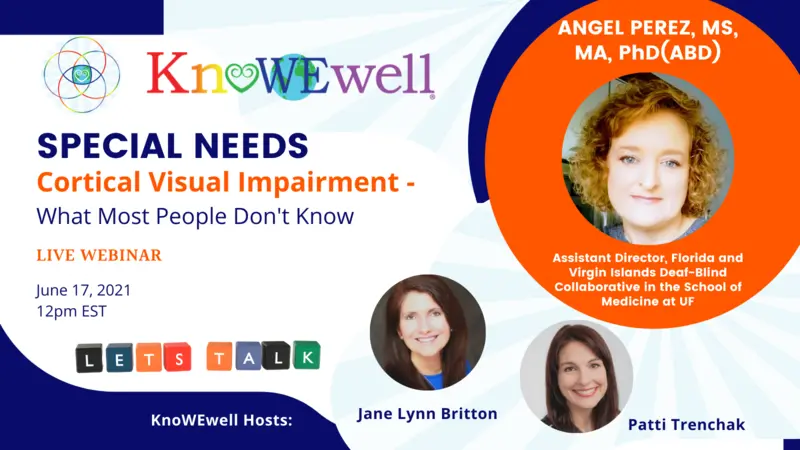 Cortical Visual Impairment – What Most People Don't Know

This month's Let's Talk Special Needs webinar will focus on "Cortical Visual Impairment (CVI) – What Most People Don't Know" and will feature Angel Perez, MS, MA, Phd (ABD). Angel is the Assistant Director for the Florida and Virgin Islands Deaf-Blind Collaborative in the School of Medicine at the University of Florida.
Ms. Perez has been working in the field of Sensory Disabilities for the past sixteen years. She has a Masters Degree in Visual Impairments and a Masters Degree in Communication Disorders and Deafness, with an undergrad in Special Education. She also received training from the Orton and Gillingham program for Dyslexia. She is currently a Ph.D. Candidate in Vision Science with an emphasis in Sensory Disabilities through the school of medicine at the University of Alabama in Birmingham.
During her years of school and training, Angel received two national honors and scholarships, first, as a Helen Keller Fellow, then as a National Leadership Consortium for Sensory Disabilities (NLCSD) Fellow. Mrs. Perez was formally a Hearing and Vision Specialist. 
According to Ms. Perez, little is known about the cause of this type of blindness even though CVI is the leading visual impairment in the Western world and in the United States.
Join KnoWEwell webinar hosts Jane Lynn Britton and Patti Trenchak as they explore this very special topic with Angel Perez, who will unveil the truth about this mysterious condition and educate us on how to help open up a world of opportunity for your child.
During this educational program, you will learn: 
What is Cortical Visual Impairment?

How it affects your child's vision

How it affects your child's education

Strategies to use at home to help manage your child's cortical visual impairment 
KnoWEwell, P.B.C.
KnoWEwell is the global Regenerative Whole Health (RWH) benefits and services company. An award-winning, woman majority-owned, B Certified pending corporation and 1% for the Planet member.
We operate KnoWEwell.com, the one online destination for today's trusted Regenerative Whole Health knowledge, resources, and ecosystem collaborating to inspire and empower individuals to prevent harm, address chronic diseases and achieve WELLthier Living. 
We are on a mission to transform healthcare, as we share knowledge and healing success stories, provide access to screened, verified and background-checked RWH practitioners, as well as expert-led and peer-reviewed content, evidence-based resources, create meaningful connections, and help today's providers, mission-aligned nonprofits, and businesses prosper.