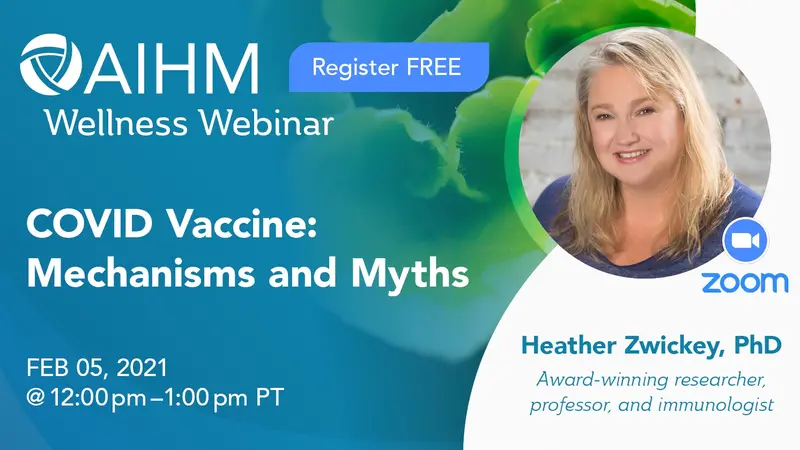 COVID Vaccine: Mechanisms and Myths

Heather Zwickey, PhD, trained at the world-renowned National Jewish Medical and Research Center in Denver. She earned a PhD in Immunology and Microbiology from the University of Colorado Health Sciences Center. Dr. Zwickey went on to complete a postdoctoral fellowship and teach medical school at Yale University. At the National University of Natural Medicine (NUNM) in Portland, OR, Dr. Zwickey launched the Helfgott Research Institute and established the School of Graduate Studies, developing Master's programs in Integrative Medicine Research, Nutrition, Sports Medicine, Ayurveda, and Global Health. Heather Zwickey, PhD, is the Dean of Research and Graduate Studies at the National University of Natural Medicine (NUNM), Director of Helfgott Research Institute, and Professor of Immunology. She currently leads an NIH funded clinical research training program. She teaches at NUNM, the University of Western States, the Fellowship program for AIHM, and Maryland University of Integrative Health. At Helfgott Research Institute, Dr. Zwickey applies her immunology expertise to natural medicine, with a specific interest in the gut-brain axis in Parkinson's disease.
The Academy of Integrative Health & Medicine is dedicated to engaging a global community of health professionals and health seekers in innovative education, leadership, inter-professional collaboration, research and advocacy that embraces all global healing traditions, to promote the creation of health and the delivery of evidence-informed comprehensive, affordable, sustainable person-centered care.