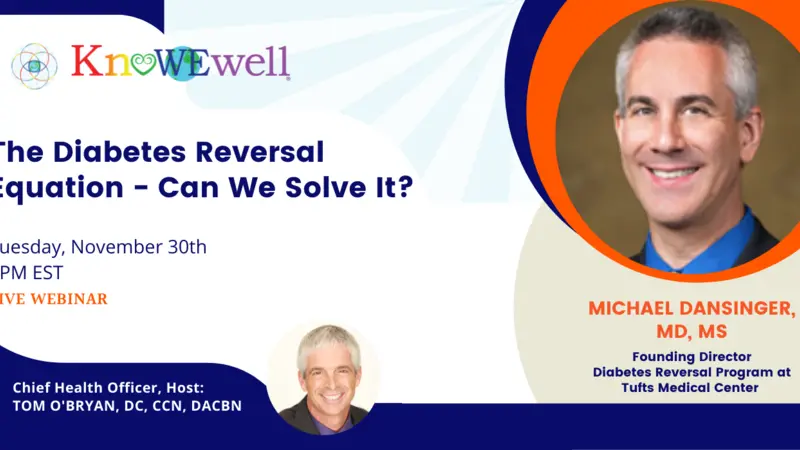 The Diabetes Reversal Equation - Can We Solve It?

Health care providers often feel beaten down by obesity-related medical problems, especially type 2 diabetes. While most clinicians agree that lifestyle change can be potent medicine in principle, many have found it impractical, ineffective, or downright hypocritical to preach lifestyle change in today's clinic environment.  
Dr. Dansinger joins KnoWEwell's Chief Health Officer, Dr. Tom O'Bryan, for an engaging and informative discussion of the underlying causes of society's obesity and diabetes epidemics, the role the medical establishment should play in prevention, and what primary care practices can do to reduce type 2 diabetes in their patient population. He discusses principles of "accelerated weight loss" under idealized conditions, provides dramatic reminders about the power of lifestyle change, and motivates providers to learn to harness that power for use in the clinic. He details the techniques he uses in his own Diabetes Reversal Clinic to identify patients amenable to lifestyle change, and explains how to coach motivated patients to achieve diabetes remission or substantial medication reduction. 
In this program, you will: 
Recognize the "obesogenic environment" as the key driver of the type 2 diabetes epidemic 
Consider challenges and opportunities to reversing type 2 diabetes on a national level 
Understand how to achieve type 2 diabetes remission with patients in the outpatient setting 
KnoWEwell, P.B.C. 
KnoWEwell is the global Regenerative Whole HealthTM (RWH) benefits and services company. An award-winning, woman majority-owned, B Certified pending corporation, and 1% for the Planet member.
We operate KnoWEwell.com, the one online destination for today's trusted RWH knowledge, resources, and ecosystem collaborating to inspire and empower individuals to prevent harm, address chronic disease, and achieve WELLthier LivingTM. 
We are on a mission to transform healthcare. We share knowledge and healing success stories, offer access to screened, verified and background-checked RWH practitioners, provide expert-led and peer-reviewed content and evidence-based resources, create meaningful connections, and help today's practitioners, and mission-aligned nonprofits and businesses prosper.