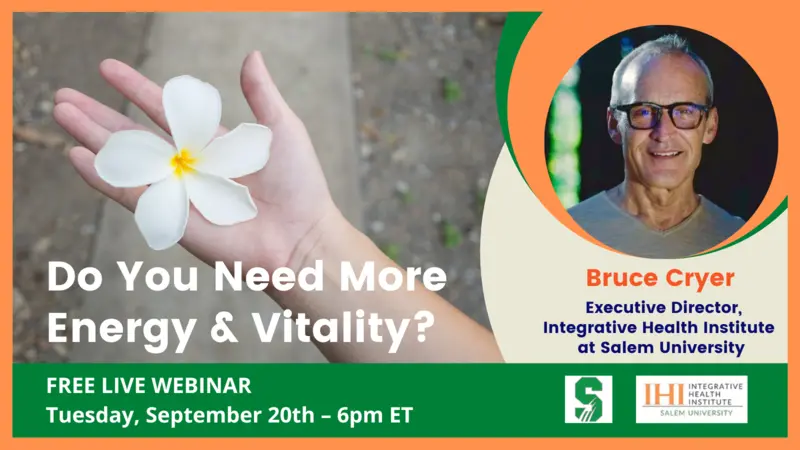 Do You Need More Energy & Vitality?

Have you noticed how it's been getting harder and harder to feel great energy and sustain it through a day or a week?
Have you gotten the "proper number of hours" of sleep only to wake up still exhausted?
You're not alone.
The number one culprit? It's called stress. 
Join Bruce Cryer, Executive Director of the Integrative Health Institute at Salem University, for this free webinar where he will introduce you to key HeartMath research as well as learn two tools that you can use immediately, as well as explore how to boost your energy and vitality in these key areas:
Stress and practical tools from HeartMath for preventing, neutralizing and recovering from stressful events
Sleep and how to maximize the quality of our sleep, as well as the quantity
Immune system support to keep our systems resilient, vibrant and strong, whatever challenges we face
Exercise and the energy-boosting effects of committing to regular exercise & how it can add years to your life
Diet and the one that is best for you
HeartMath has gained international acclaim since its founding in 1991 for its research-based tools for stress reduction, performance enhancement, and general well-being. Articles in the Harvard Business Review, Journal of Stress Medicine, Journal of Preventive Cardiology and many other medical journals have confirmed the validity of HeartMath's innovative research as well as 400 peer review studies into its efficacy. Bruce was CEO of HeartMath for 11 years. 
HeartMath is known for its innovative use of Heart Rate Variability to measure and train our physiology into optimal states. (HeartMath is a registered trademark of Quantum Intech, Inc.)
This free webinar will give you a preview of the three-session course, Energy & Vitality: The HeartMath Approach starting on Wednesday, September 28th, and continuing on October 5th and 12th, 6-8pm ET.
Join us!