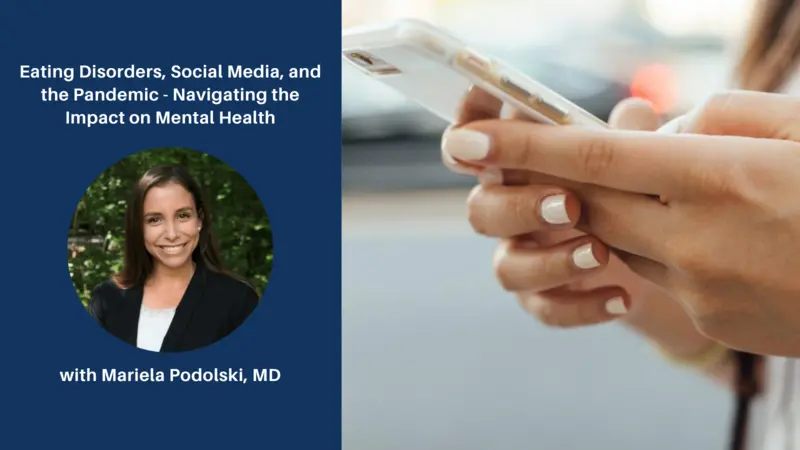 Eating Disorders, Social Media & the Pandemic: Navigating the Impact on Mental Health

Join Dr. Mariela Podolski for this free webinar exploring the link between eating disorders, social media use, and the increase in isolation during the pandemic. She'll examine how this impacted mental health and discuss methods for prevention and early intervention.
Rates of mental illness and related concerns over mental wellness have been rising for years, especially among children and those with eating disorders. There was a clear increase in eating disorders since the beginning of the COVID-19 pandemic, and this increase highlights a serious gap in our approach to mental health care. Healthcare providers treating patients in the eating disorders community over the past few years have witnessed first-hand a dramatic elevation of cases, with limited treatment resources.
Part of the problem is likely due to a lack of any evaluation of the physiological causes or contributing factors to symptoms. Mental illness is complex, usually set off by a constellation of components that all contribute to an individual's mental state. However, two factors have had a large influence on this increase: social media and pandemic isolation.
About Dr. Mariela Podolski
Mariela Podolski is a psychiatrist with board certifications from ABPN in both Adult Psychiatry and Child and Adolescent Psychiatry. She is originally from Costa Rica, where she completed medical school at the Universidad de Costa Rica. She completed her residency training at the Institute of Living in Hartford, CT, and a fellowship in Child and Adolescent Psychiatry in Milwaukee, WI. Dr. Podolski has dedicated most of her career to working with eating disorder individuals. She currently works in private practice and provides consulting services to Walden Behavioral Care.