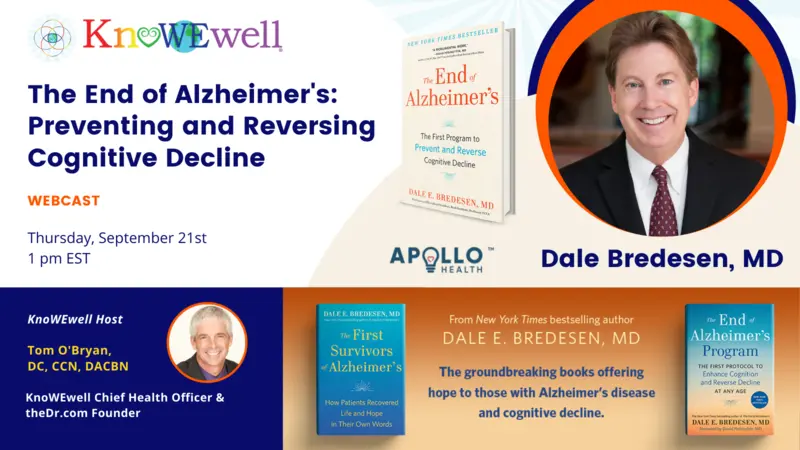 The End of Alzheimer's: Preventing and Reversing Cognitive Decline

Alzheimer's disease is a type of brain disease, just as coronary artery disease is a type of heart disease. It is also a progressive disease, meaning that it becomes worse with time. Alzheimer's disease is thought to begin 20 years or more before symptoms arise.
MORE THAN 6 MILLION AMERICANS ARE LIVING WITH ALZHEIMER'S. BY 2050, THIS NUMBER IS PROJECTED TO RISE TO NEARLY 13 MILLION.  1 IN 3 SENIORS DIES WITH ALZHEIMER'S OR ANOTHER DEMENTIA. IT KILLS MORE THAN BREAST CANCER AND PROSTATE CANCER COMBINED.
Join us as Dale Bredesen, MD shares his research and unique multi-step precision medicine approach that is reversing cognitive decline. He will inspire you with hope for prevention and healing and empower you with knowledge.
An internationally recognized expert in the mechanisms of neurodegenerative diseases, Dr. Dale Bredesen's career has been guided by a simple idea: that Alzheimer's as we know it is not just preventable, but reversible. Dr. Bredesen's dedicated pursuit of the science that makes this a reality has placed him at the vanguard of neurological research and led to the discoveries that today underlie the ReCODE Protocol.
Dr. Bredesen's research explores previously uncharted territory in explaining the physical mechanism behind the erosion of memory seen in Alzheimer's disease and has opened the door to new approaches to treatment. This work has led to the identification of several new therapeutic processes that are showing remarkable early results. Dr. Bredesen is a prodigious innovator in medicine, with over thirty patents to his name. Notably, he put much of his findings and research into the 2017 New York Times' Best-Seller, The End of Alzheimer's.
His most recent book, The First Survivors of Alzheimer's, presents the stories of seven individuals who reversed their cognitive decline using the ReCODE Protocol.
Apollo Health
Merging Medicine and Technology to Prevent and Reverse Cognitive Decline
The Bredesen Protocol developed by Dr. Dale Bredesen is a comprehensive, personalized program to improve cognition and reverse the cognitive decline of subjective cognitive impairment (SCI), mild cognitive impairment (MCI), and early Alzheimer's disease. Dr. Bredesen has outlined 36 metabolic factors that can trigger "downsizing" in the brain. Working with the results from the PreCODE and ReCODE Reports, the protocol shows us how to rebalance these factors using lifestyle modifications and a community of professionals. 
Apollo Health brings together some of the world's top experts to help you and your family live better, more healthy lives.
KnoWEwell, P.B.C.
KnoWEwell is the global Regenerative Whole Health (RWH) benefits and services company. An award-winning, woman majority-owned, B Certified pending corporation and 1% for the Planet member.
We operate KnoWEwell.com, the one online destination for today's trusted Regenerative Whole Health knowledge, resources, and ecosystem collaborating to inspire and empower individuals to prevent harm, address chronic diseases and achieve WELLthier Living. 
We are on a mission to transform healthcare, as we share knowledge and healing success stories, provide access to screened, verified and background-checked RWH practitioners, as well as expert-led and peer-reviewed content, evidence-based resources, create meaningful connections, and help today's providers, mission-aligned nonprofits, and businesses prosper.