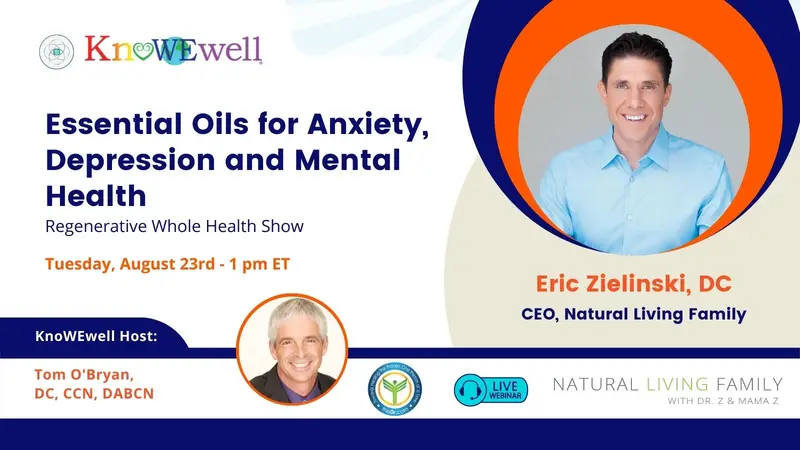 Essential Oils for Anxiety, Depression & Mental Health

Essential oils are a safe, non-habit-forming healing modality that can bring balance to brain chemistry and help people overcome mental health issues like anxiety, depression and substance abuse.
Dr. Eric Zielinski (Dr. "Z"), author of the national bestseller The Healing Power of Essential Oils and The Essential Oils Apothecary, has pioneered natural living and biblical health education since 2003. Trained as an aromatherapist, public health researcher, and chiropractor, Dr. Z founded the #1 online source for non-branded essential oils education, NaturalLivingFamily.com. to help people learn how to use natural remedies like essential oils safely and effectively.  
Dr. Zielinski joins KnoWEwell's Chief Health Officer, Tom O'Bryan, DC, CCN, DACBN and founder of theDr.com, to discuss the basics of essential oils and how they can be used to support mental health issues.
In this program, you will learn:
Smell is the only sense that is hard-wired to the brain

How inhaling essential oils has a direct effect on the parts of the brain that control anxiety, stress, mood, and fear

How topical or ingested aromatic compounds affect brain chemistry

The role of citrus essential oils and d-limonene in depression

How essential oils can help slow down a racing heart and regulate blood pressure 
KnoWEwell.com
KnoWEwell operates the private and secure Regenerative Whole Health Hub – the all-in-one, global, trusted online health and well-being solution – bridging the knowledge, access, and insurance gaps. Centralizing knowledge, education, and evidence-based resources. Connecting the ecosystem to collaboratively help individuals prevent harm, address the root causes of disease, and achieve WELLthier Living™!
Did you know you can curate your own learning library?
Among our plethora of membership benefits, you can create your own library! With a KnoWEwell Pathfinder membership, you get access to KnoWEwell's Education Center with 50+ (and growing) educational programs from today's top thought leaders and experts. Learn how to prevent and address the root causes of chronic disease. Keep track of the programs you have already viewed and watch them anytime you or your family need help. Join today, apply code BEWELL20 and receive 20% off your Pathfinder membership (or any other membership plan). That's just $8 a month to get started on your journey to achieve WELLthier Living – Happy. Healthy. Abundant. Purpose-Filled!