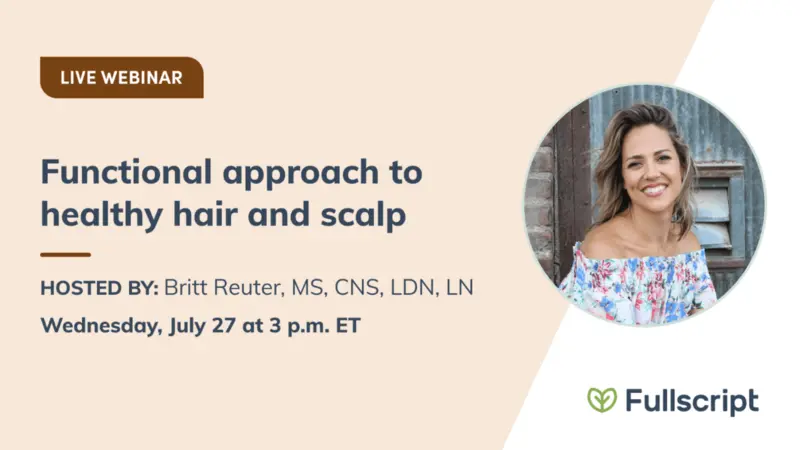 Functional Approach to Healthy Hair and Scalp

THIS WEBINAR WILL BE AVAILABLE ON-DEMAND FROM FULLSCRIPT SHORTLY AFTER THE DATE OF THE LIVE WEBINAR USING THE SAME REGISTRATION LINK.
Healthy hair (and a healthy scalp) starts on the inside! In this webinar, Britt Reuter, MS, CNS, LDN, LN, will unpack root-cause issues behind common scalp complaints, discuss their potential impact on hair health, and share the importance of approaching these topical symptoms with a functional framework.
In this webinar, you'll learn:
Top root causes related to scalp complaints like rashes, itches, and flakiness
Insights on applying a functional, whole-body approach to scalp and hair health 
Key nutrients to support a healthy scalp from the inside-out 
The impact of microbiome imbalances and tips for maintaining a healthy scalp flora
Can't make the scheduled time? Don't worry! We'll be sending a recording to all registrants after the live event, and you can find all Fullscript webinars at www.fullscript.com/webinars.
---
About Britt Reuter MS, CNS, LDN, LN:
Britt Reuter MS, CNS, LDN, LN is a Licensed Dietitian Nutritionist, Certified Nutrition Specialist. She graduated Summa Cum Laude from the Master of Science in Human Nutrition program at the University of Bridgeport. It's Britt's personal experience with chronic inflammation coupled with her formal training in nutrition and functional medicine that empowers her to help clients overcome the symptoms they feel stuck with so they can get back to living their best life. Britt lives in the Boston area, consulting with clients across the US via webcam and phone.